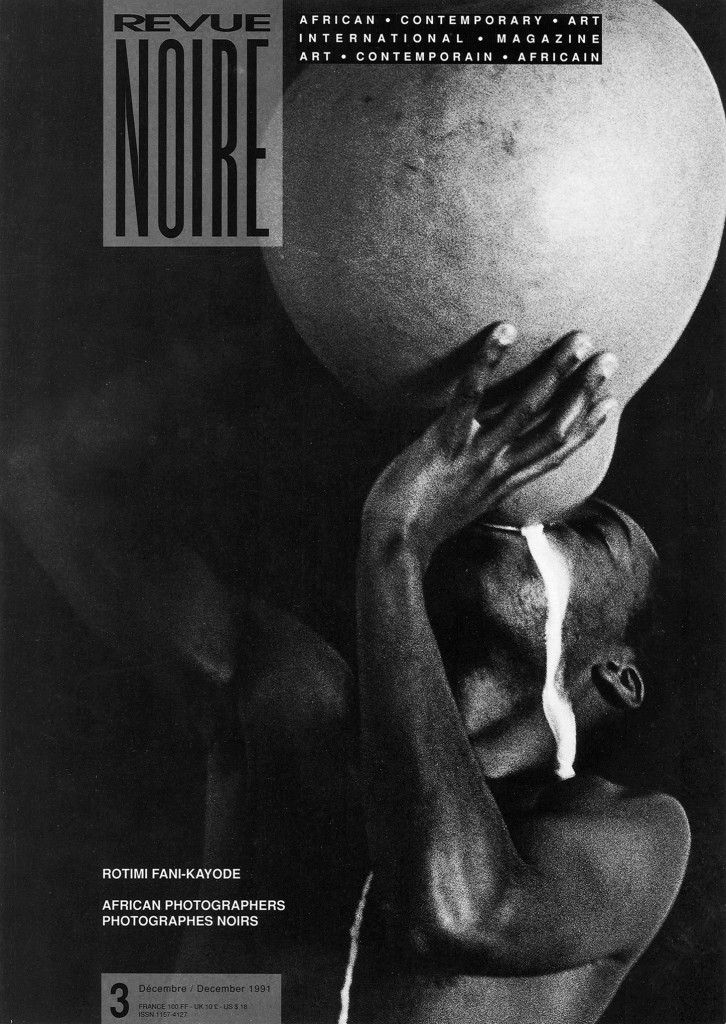 SPECIAL AFRICAN PHOTOGRAPHY
AFRICAN PHOTOGRAPHERS
16 African photographers from Africa, Carrebean and Usa
Perspectives of African Photography :
Trough the looking glass / Back to Reality / The Art Photographer / Memory revealed
African Photo Books
List of African Photographers
Revue Noire exhibits at the Wallonie-Bruxelles Centre in Paris the first African photo exhibition with the photographers : Mama Casset, Rotimi Fani-Kayodé, Bouna Medoune Seye…
MONOGRAPHY
Rotimi Fani-Kayodé – (with Alex Hirst)
London active photographer
Approach to the ecstasy of the trance and erotic phantasm
Co-founder of the association of Black British photographers AUTOGRAPH
Editors Jean Loup Pivin et Pascal Martin Saint Leon
60 pages 40x28cm
Published in December 1991
In French and English.
EDITO
African photography exists !
So here you have a first glance at African photography. Our only goal is to expose a selection of artists whose picturemaking is a means of artistic expression in itself: a commitment to the problem of photography in contemporary art, which is its "privileged, ambiguous and confusing position. Privileged because its technique, no longer considered the be all and end all, synthesizes a number of questions about the future and the meaning of art; ambiguous and confusing because along with this central position comes the heavy responsibility to reproduce a world which itself is contorted by an inflation of images".  We cite Sylvie Couderc in Art Press No11( Paris 1990). This excellent source can provide interested readers a theoretical discussion which Revue Noire has forgone in order to let the pictures speak for themselves.
by Jean Loup Pivin
Contents of RN 03 :
PHOTO MONOGRAPHY / Rotimi Fani-Kayodé (Nigeria-UK) and Alex Hirst (UK)
AFRICAN PHOTOGRAPHERS /
Trough the looking glass (Pierre Verger, Roger Dorsinville)
Back to Reality (Drum Magazine, Bongani Mnguni, Bouna Medoune Seye, Amadou Gaye)
The Art Photographer (Alain Hermann, Begau, Alfred Iyobhebhe, Hart Leroy Bibbs, Angèle Etoundi Essamba, Bhimji)
Memory revealed (Addison N. Scurlock, Jarvis Grant, Gene Young, Thompson)
Books and list of african photographers
LITERATURE / Tilliette, Nadine Gordimer
THEATER / Francophonie de Limoges
CINEMA / Djibril Diop Mambety
RITUAL ART / Musée de l'Homme Paris
NEWS / Les 1ere Rencontres de la Photographie de Bamako
FEW PAGES FROM RN 03 :
.