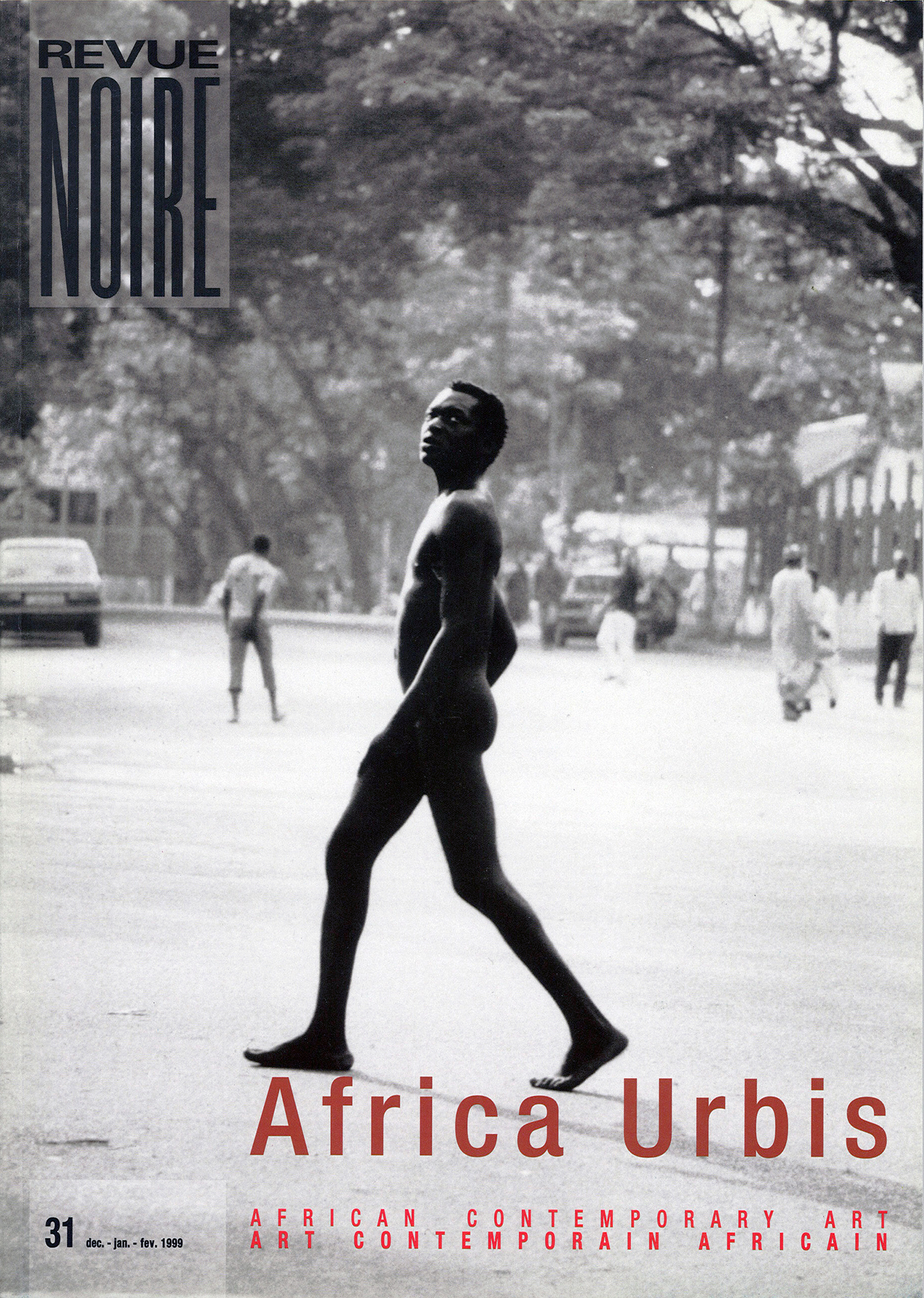 AFRICA URBIS
African cities and urban lifes
ART PORTFOLIOS : Pascale Marthine Tayou, Keith Piper, Salim Currimjee, Krikko, Moshekwa Langa, Joël Andrianomearisoa…
PHOTOGRAPHY : Akinbiyi Akinboye, Issa Diabaté, Joël Andrianomearisoa, de Medeiros…
LITTÉRATURE : Kangni Alemdjrodo, Issa Diabaté, Isabelle Boni Claverie, Florent Couao Zotti…
MUSIQUE
ARCHITECTURE PATRIMOINE DESIGN / Zanzibar, Uruguay Nairobi, Montevideo, Mali Bamako, Villes coloniales, Abidjan Cote d'Ivoire, Doual' Art, Port-Louis Réunion, Ola Délé Kuku, Antananarivo Madagascar…
ART RITUEL / Abomey
ENTRETIEN, MEMOIRE du MONDE / Amédé Mulin, Olivier de Lignerolles, Xavier Crépin, Jean Loup Pivin, Simon Njami
Editor Amédé Mulin
Published in December 1999
In French and English
EDITO 
The Earth in Stone
Concrete reason… Reason logic… The cogwheels of nature… Functional, working city… Alone in  the crowd… Mad about its materials… African cities, new cities… Founding the modern city… Royal desire… †he wind of urban heresy…
Questioning paradise… The bronze of ordered disorder… Alpha's squares… Movement… Death does not exist… Same difference… The last vestige or promises… The losing numbers… Open house… Deconstructed society… New territorial states… The new territories… Cosmopolitan…
There is no « other » who is not a part of one's self, there is no self without others. Another way of forgetting one's solitude.
by Jean Loup Pivin
contents of RN 31 :
ART / Pascale Marthine Tayou, Keith Piper, Salim Currimjee, Krikko, Moshekwa Langa, Joël Andrianomearisoa
PHOTO / Akinbiyi Akinboye, Issa Diabaté, Jérôme de Souza, Abibou M'Baye, Joël Andrianomearisoa, Alpha Yaya Diallo Alphonse, Currimjee, de Medeiros, Ananias Leki D., de Medeiros
LITERATURE / N'Guette, Kangni Alemdjrodo, Issa Diabaté, Isabelle Boni Claverie, Florent Couao Zotti, Wilson Katiyo, Alphonse Sitou
CINEMA / Bakupa Kanyinda, Jean Marie Teno, Mama Keita
MUSIC / Mamadou et Mariam, Samuel Nja Kwa
ARCHITECTURE HERITAGE DESIGN / Ndoumbé, Thaddée Moulouem Njintain, Zanzibar, Eddie Juma Muhammad, Uruguay Nairobi, Montevideo, Mali Bamako, Villes coloniales, Diala Touré, Abidjan Cote d'Ivoire, Guillame Koffi, Issa Diabaté, Thierry Dogbo, Krikko, Kwatt, Doual' Art, Rozo, Rinckel, Roussel, Zourgane, Port-Louis Réunion, Ola Délé Kuku, Antananarivo Madagascar
RITUAL ART / Abomey
TALKS, MEMORY / Amédé Mulin, Juliette Bonaffé, Olivier de Lignerolles, Xavier Crépin, Marion Urban, Armalle Chatelier, Jean Loup Pivin, Simon Njami
Few pages from Magazine RN 31 :
.