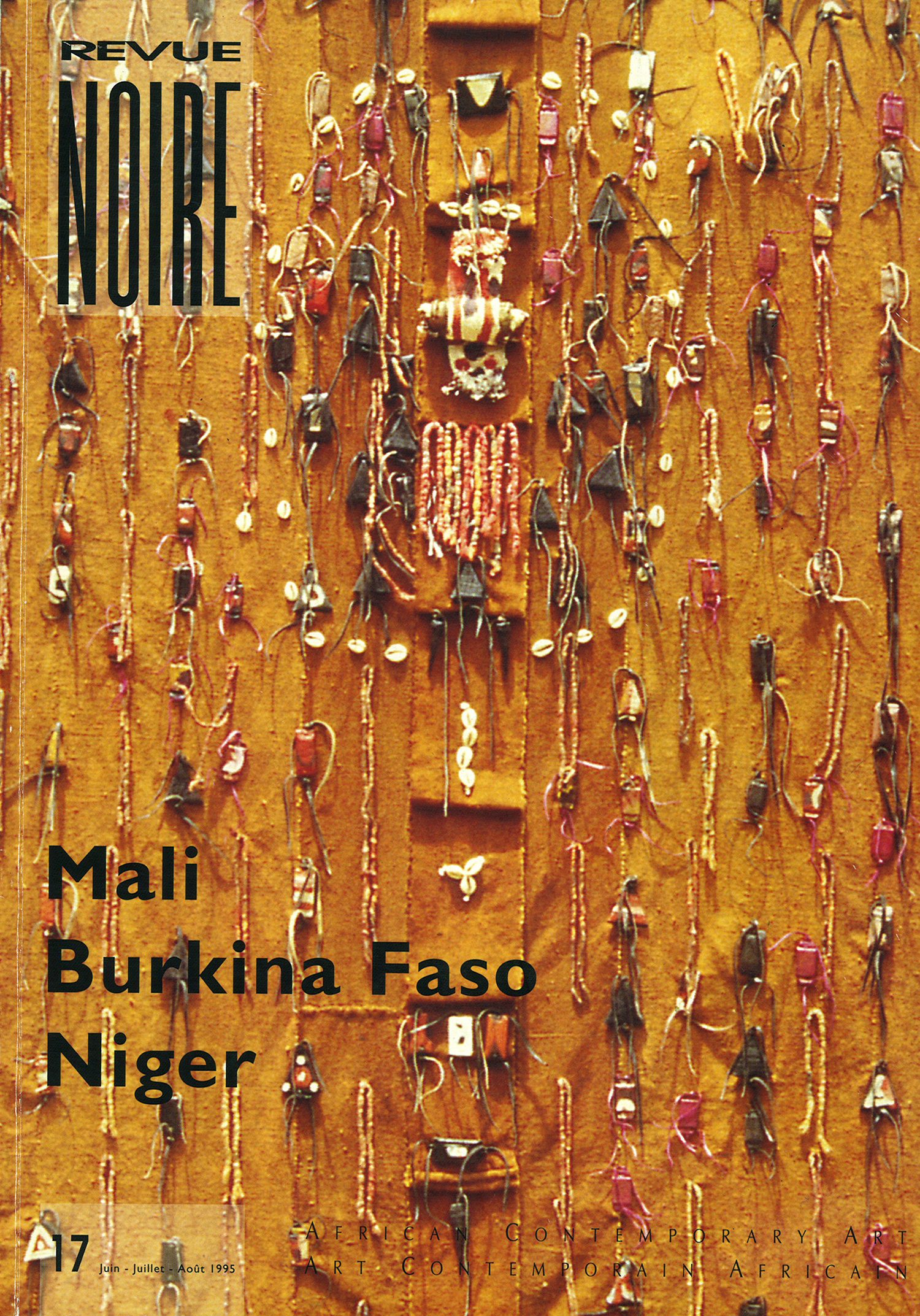 MALI - BURKINA FASO - NIGER
Art Portfolios Abdoulaye Konaté, Modibo Franky Diallo…
and panoramas of artists
Photography
Literature
Dance
Music
Cinema : Fespaco 1995
Architecture, design
Talks - Memories
Music CD 'Kar Kar'
Original songs included in Cd in magazine by Boubacar Traoré called 'Kar Kar' (Mali Twist, Les enfants de Pierrette…)
Editor Jean Loup Pivin
100 pages 33x23cm
Published in June 1995
In French and English
EDITO
Ghosts Don't Go To Heaven
The men and women of Sahel know how to live, to survive, to suffer, to love, all while possessing nothing but their kingly and queenly bodies, disappearing into the sky on the horizon. At night, ghosts prowl around earthen houses eroded by the rare torrential rains. When they enter villages, they sometimes wear masks and give birth to music. Powerful bodies, fully alive, beat their feet on the ground and  begin dancing, while the fertile soil become dust, flies into air. Both nomads and sedentary people move. Peasants and shepherds arrive in the city and construct a courtyard that an inalienable landscape will ever surround – despite the garbage, despite the nearby walls, despite riverbeds that become overflowing sewers when the rainy seasons begins.
Modibo Keita and Thomas Sankara failed at what Alpha Oumar Konaré is trying to do and at what others will ever attempt to do. Trying to get people to believe in the land of the futur, happy that reason dominates when intransigence threatens, stemming from a past ressucitated by the dark forces of Islam and bogged down in helpless traditions.
by Jean Loup Pivin
contents of RN 17 :
ART / MALI / Abdoulaye Konaté, Modibo Franky Diallo, INA, Ismael Diabaté, Alpha Yaya Diara, Kanté, Somé, Brahima Koné, Awa Meite, Sinaba, Alfousseiny Kelly, Mamy Soumbourou, Mohammed Haidara 
ART / BURKINA FASO / Olorun, Ali Kéré, Jean didier Yanogo, Saman Doulougou, Siriki Ky, Henri Max Terrasson, Claude Marie Kabré, Noukauni, Saibou Bambara 
ART / NIGER / Boubacar Boureima, Alichina Allakaye, Ali Garba, Lawson Attikpasso, Akili, Joe Big Big, Malam Zabairou
PHOTO / MALI / Abderramane Sakaly, Ahmed Makki Kanté, Seydou Keita, Malick Sidibé, Alioune Bâ, Haroune Racine Keita /
PHOTO / NIGER / Maizoumbou Saley / Boubacar
LITERATURE / Hawad, Mallaï Lélél, Thierno Ahmed Thiam, Bernadette Tiendrabeogo, Bernadette Dao Sanou, Albakaye Ousmane Kounta
CD MUSIC / Kar Kar, Boubacar Traoré, Ali Farka Touré, Alpha Ousmane Sankaré, Lobi Traoré, Toumani Diabaté, Habib Koité, Kélétigui Diabaté, Zongo Seydou, Zedess, Ali
PHOTO / Touré Mandémory / Bouna Medoune Seye
DANCE / N'Soleh, Massidi Adiatou
THEATRE / Tréteaux du Niger
CINEMA / FESPACO 95 / Cissé, Fespaco, Drissa Touré, Dani Kouyaté, Ian Kerkhof, Mickey Madoda Dube, Cheik Oumar Sissoko
ARCHITECTURE HERITAGE DESIGN / Diop, Chris Seydou, Soumaïla, Awa Cissé, Magassouba, Semega Maiga, Xuly Bet, Aly Oueder, Ali Nikiema, Alphadi
TALKS MEMORY  / Jean Loup Pivin, Bruno Airaud, Bruno Tilliette, Khady Csé, Yves de la Croix
ART NEWS  / Dak'Art, Africus, Willie Bester, Andrew Putter, Sue Williamson, Art contemporain de Tunisie, Hajeri, Lassaäd Metoui, Marie Wolf, William Wilson
Few pages from Magazine RN 17 :
.