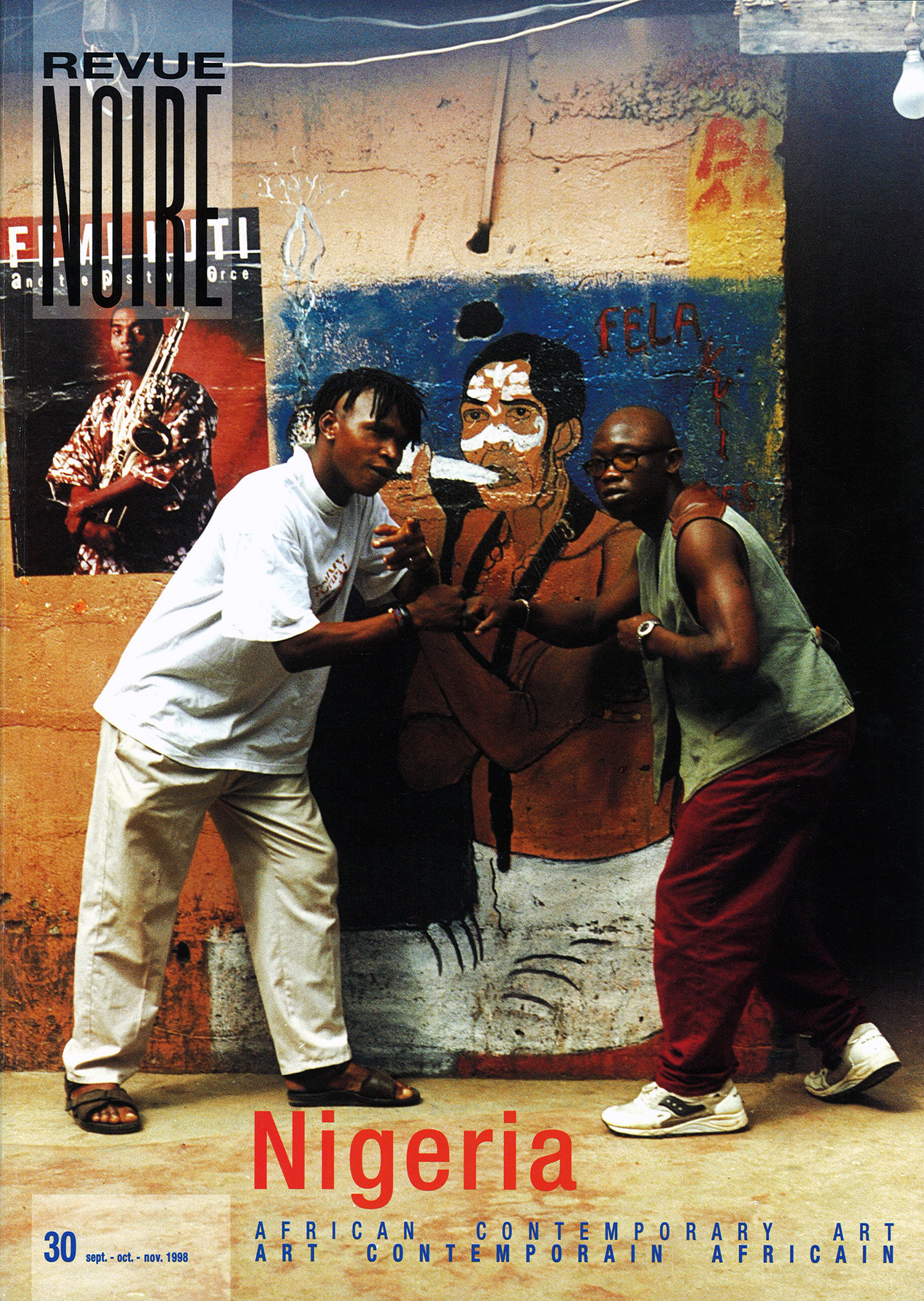 NIGERIA
ART PORTFOLIOS : El Anutsui, Sokari Douglas Camp, Twins Seven Seven, Oshogbo, Bruce Onobrakpeya, Emmanuel Ekefrey, Sunday Jack Akpan…
ARTISTS PANORAMA
PHOTOGRAPHY : Akinbiyi Akindode, Ike Ude, Rotimi Fani-Kayode, Yinka Shonibare…
LITERATURE - THEATRE : Amos Tutuola, Ken Saro Wiwa, Ostia Obi, Uche Nduka…
DANCE
MUSIQUE
RITUAL ART : Egungun, Epa Oloko
TRIBUTES to Odile Briot
Editor Patrice Monfort
Published in December 1998
In French and English
EDITO 
Late Shoots
Plays, writing, painting, sculpture, on and against dictatorship.
Existential criticisms of the materiality of sated societies, denouncement of totalitarian authorities that through blood and an ideology that can be more or less bogus but nonetheless an alibi for personal power, impose their debased behaviour on poor souls. In time and space, in the world and in history, we do not know if these criticisms can really change dictatorships. They are nearly always created beyond the walls of the imprisoned countries.
Those who stayed behind in silence can seem to have accepted their yoke, as though done down by the fate of a new race the submissive. Yet fighting from the inside means managing to carry on living and thinking, ever alone, in silence, with no external proof of one's combat with one's self, amongst the others who have all become "others". Whence the void. A void so deep it cannot be measured. A void whose sterility, proportional to the length of imprisonment, seems to have been acquired for good.
Once the fall of the dictatorship has finally been confirmed, the retuming diaspora is in an ambiguous situation when they try to regain seats of power, other than those of welcome money. They will allways be resented for deserting, for leaving the others in their solitude of invisible resistance, for being able to have expressed themselves freely, for being suspected, then and now, of all evils. The retuming brother, seen as an invader if not a predator, simply becomes a foreigner. Soon disillusioned himself, out on a Iimb, he sustains the impression of a void doomed to permanent sterility.
But ail gardens, in the winter of their earth, promise the spring of their hidden shoots.
by Jean Loup Pivin
contents of RN 30 :
ART / NIGERIA / Oshogbo, Zaria, Bruce Onobrakpeya, Emmanuel Ekefrey, Twins Seven Seven, Sunday Jack Akpan, Jacob Jari, El Anatsui, Eva Obodo, Lasisi Lamidi, Ayo Aina, Henrietta Alooma Alele, Toyin Loye, Fotake Shoga, Otobong Nkanga, Sokari Douglas Camp
PHOTO / NIGERIA / Jide Adeniyi Jones, Akinbiyi Akindode, Babalunde Ayinde Okoya, Ike Ude, Rotimi Fani-Kayode, Yinka Shonibare
LITERATURE / NIGERIA / Ostia Obi, Agbayi, Charles E. Nnolim, Uche Nduka, Amos Tutuola, Ken Saro Wiwa
THEATRE / NIGERIA / Adeniran, The Black Odysey
DESIGN / NIGERIA / Ola·Dele Kuku
RITUAL ART / NIGERIA / Egungun, Epa Oloko
TALKS MEMORY / Monfort, Babatunde Ayinde Okaya, Makinde Adeniran, Gelede, Duro Lapido, Ulli Beier
TRIBUTES to Odile Briot
Few pages from Magazine RN 30 :
.