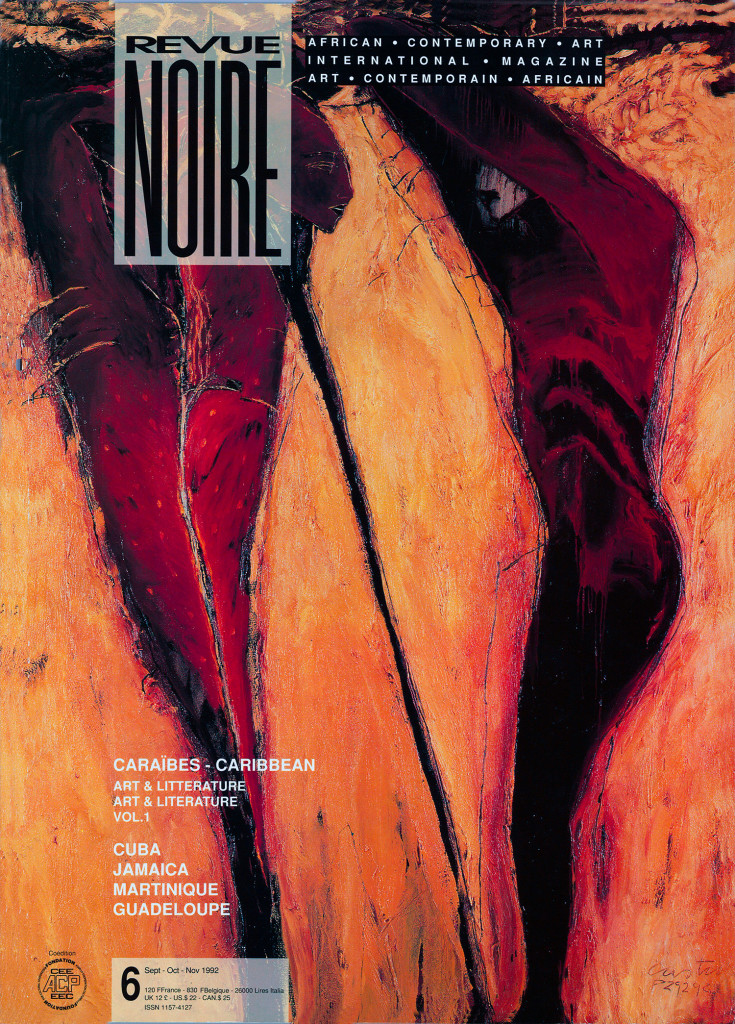 WEST INDIES voL. I
CUBA
Antigua
JAMAICA
Grenada
MARTINIQUE
GUADELOUPE
GUYANe
Barbados
Art Focus and artists' panorama
Photo
Literature
Editors Simon Njami and Jean-Claude Charles
Special correspondant photographer David Damoison
Published in September 1992
100 pages 40x28cm 
In French, English and Spanish
EDITO
The Caribbean
Like a glass of rum caught in the gaze of amorous despair.
The night of the neon lights colours blue a sea red with demons of the earth.
The islands alive from overabundant love and too many rapes : the Caribbean.
Africa is faraway, Africa is close.
And all the ancestors of mixed blood in dreams jostle each other.
It will happen to the whole world - whatever the language or passport.
The first part of our look at the Caribbean is now yours :
Cuba, Jamaica, Martinique, Guadaloupe.
The second part will appear in 1993 :
Haiti, Santo Domingo, Puerto Rico, Trinidad and Tobago, Guiana.
And all the talents stream past.
Forgive us, all those who have not found a place on these overcrowded pages.  
by Jean Loup Pivin
Contents of RN 06 :
WEST INDIES vol. I

CUBA, JAMAICA, MARTINIQUE, GUADELOUPE, GUYANE, Barbados
ART / HAITI / Jean-Michel Basquiat
CUBA / Clara Morera, Santiago Rodriguez Olazabal, Lazaro Saavedra Gonzalez, Ciro Quintana Gutierrez, Zaida del Rio, Orestes Castro Garcia, Tomas Esson Reid, Carlos Rodriguez Cardenas, Raul Speek, Jesus de Armas, Gustavo Acosta , Ruben Torres Llorca, José Bédia, Ramon Alejandro, Roberto Altmann, Echevarria, Jorge Camacho, Guido Llinas, Manuel Mendive, Gina Pellon, Segundo Planes Herrera
ANTIGUA / Keith Piper
CARIBBEAN / Eddie Chambers
JAMAICA / Stanford Watson, George Milton, Dawn Scott, Robert 'African' Cookhorne, Brooks, Everald Brown, Eric Cadien, Margaret Chen, Kofi Kajiga, Birth Livinstone 'Ras Dizzy', Mc Farlane, Morrison, Roy Reid, William 'Woody' Joseph
SANTO DOMINGO / Tam Joseph
GRENADA / Denzil Forrester
MARTINIQUE / Hervé Télémaque, Ernest Breleur, Jacqueline Fabien, Philippe Beaunol, Marc Latamie, Apat, Besnard, Burke, Catherine Césaire, Goudin Thébia, Fwomajé, Guédon, Pelti, Sergio, Négro Caraïbe, Gensin, Hélénon, Laouchez, Ismaël Mundaray
GUYANE / José Legrand
GUADELOUPE / Thierry Alet, Antoine Nabajoth, Bruno Pédurand, Henri Tauliaut, Ganer, Koukara, Koulé Karayib, Limouza, Métura, Radford, Rovelas, Salèvor, Trames
BARBADOS / Sonya Boyce
GUYANA / John Lie A Fo
PHOTO / David Damoison, Albert Chong, Canas, Mario Diaz, Nicolas Delgado, Hector Mendez Caratini, Martin Lopez, Ferguson, Marta Maria Perez Bravo, Ramon Pacheco Salazar, Harclyde Walcott, Wilfredo Garcia, Eduardo Munoz, Luis Mallo, Victor Vasquez, Rene Pena Gonzalez, Idaljiza Liz, Constantino Arias, Juan Carlos Alom, Nelson A. Egüed 'Pinty', Glaize
LITERATURE / Jean-Claude Fignolé, Joël Des Rosiers, Jean-Claude Charles, Reinaldo Arenas, Alberto Lauro, Edward Kamau Brathwaite, Mutabaruka, Orlando Patterson, René Philoctète, Simon Njami, Patrick Chamoiseau, Vincent Placoly, Ernest Pépin, Gerty Dambury, Severo Sarduy, José Triana, Jamaica Kincaid, Antonio Desquiron Oliva, Priska Degras, Erna Brodber, Roy Heath
TALKS MEMORY / Castellanos Cartaya, Govanni Joppolo, Veerle Poupeye Rammelaere,  Henri Jobbé Duval
Few pages from RN 06 :
.