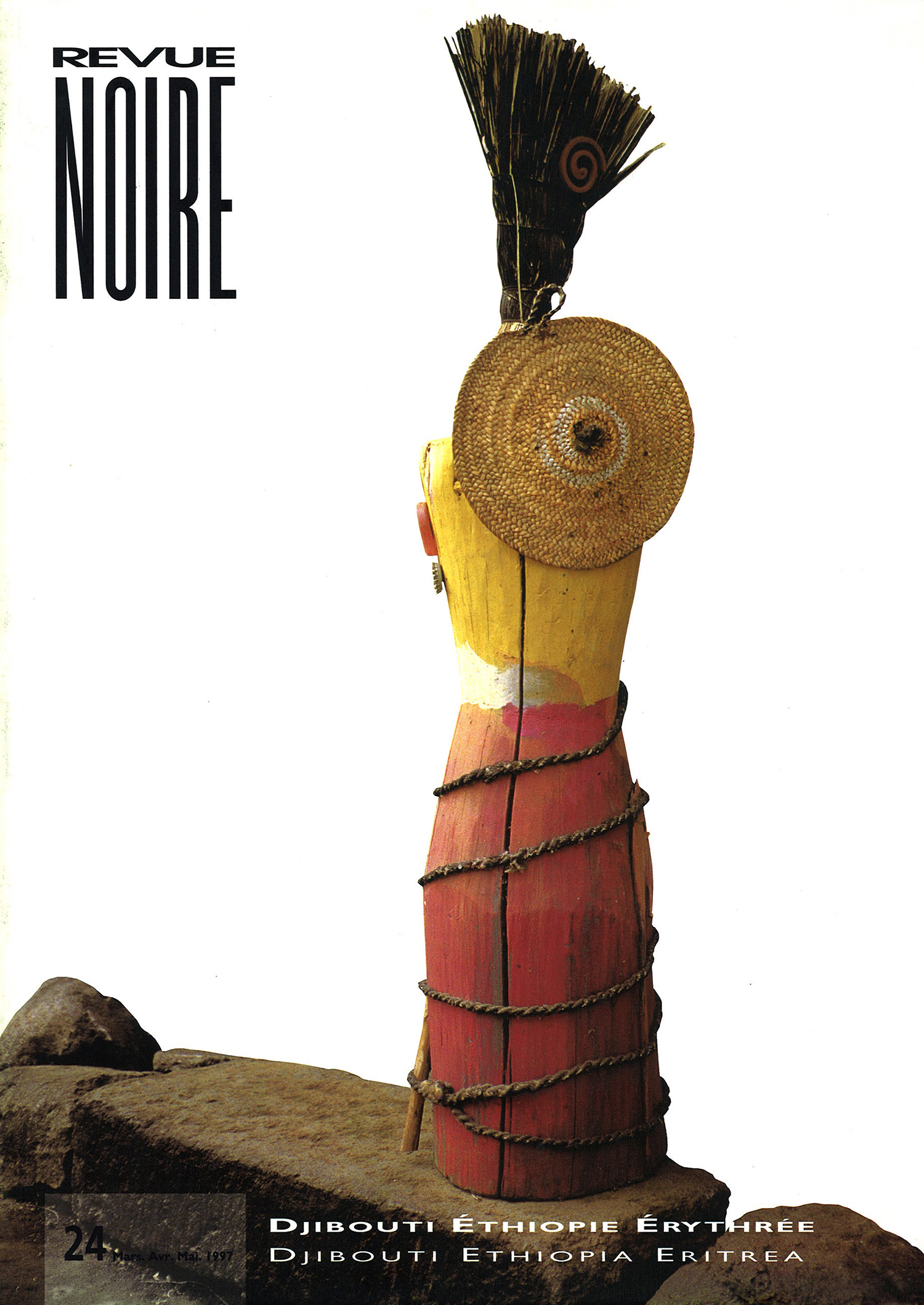 Ethiopia - Djibouti - Erytrea
the Horn of Africa
Art Portfolios
artists panorama
Photography
Literature 
Cinema
Architecture, herritage, design
Talks - Memories
AFRICAN SUITES
A Revue Noire exhibition in Paris (March-April 1996)
with Moustapha Dimé, Mohamed Kacimi, Henri Koombes, Ennri Kums, Pascale Marthine Tayou, Elodie Barthélémy, Abdoulaye Konaté, Bethe Sélassié, Pume
Paintings, sculptures, photography, cinema, literature, misique, dance
Talks about African society subjects, interviews with artists, music concerts
Editors N'Goné Fall and Jean Loup Pivin
100 pages 33x23cm
Published in December 1996
In French and English
EDITO 
From Your Lips To The Gates of Heaven
Addis-the-crazed, Asmara-the-sweet , Djibouti-the-carefree. An unusual trio in the Levant « village », where angels still murmur the wanderings of Monfried, Malraux, Kessel, Rimbaud, Pratt, Soupault and Leiris' travelling souls. All kinds of fantasies have been washed up on this vast territory surrounded by real borders whose limits, that either exclude or encompass, are the only places where meetings occur : fiery, bloody meetings. The Word reigns in this proud flirtation with death. Whether sedentary or nomadic, it journeys through space transmitting and transforming itself for the glory of man.
"She is the world" goes their song : a passionate tribute to Lucy, the Origin and the Centre, a narcissistic image of the past in the mirror of time.
Uttered like a prayer, this heavy inheritance sometimes stifles a future which is in step with modernity when the knowing dialogue between the artist and the others ceases. For Man is often a careless child lost on the pathways of a tale where the actors are threatening beacons. And he destroys them in a craze. This sacrifice gives rise to a long, slow wail that tries to alert the world's vibrations. If Djibouti is deaf, Addis and Asmara barely stir. Silence is then answered by silence and an artist dies.
"She is the world". The artist is both the first and last verse of this song, for he lights and re-lights the spark of life. And one does not kill Life. It always rises again to float above the plains and the mountains, drifting towards the gates of heaven.
by Jean Loup Pivin
contents of RN 24 :
ART / DJIBOUTI / Djama Elmi God, Fouad Daoud Youssouf, Mouhoumed M. Houssein, Nawal Awad
ART / ETHIOPIA / Worku Mamo, Kidane Belay, Gedeon Makonnen, Naomi Tesfaye, Zerihun Yetmgeta, Leul Gebrial, Mezgebu Tessema, Gera, Eshetu Tiruneh, Tadesse Belaineh, Desta Hagos, Guebre Kristos Desta, Skunder Boghossian, Ermias Ekubre, Adizu Worku, Tibebe Terffa, Acha Debela, Tesfaye Tessema, Girma Hiwet, Yohannes Gedamu, Geta Mekonnen, Samuel Sharew, Worku Goshu, Girma Seboka, Mesfin H Mariam, Adam S Mickael, Wosone Kosrof, Hailu Tsige, Mahlet Abrahalm, Tesfaye Wolde Selassié, Bekele Mekonnen, Emebet Belete, Mulugeta Tafesse, Elizabeth H Wold, Muzie Awel, Tadesse Mesfin, Daniel Taye, M Sherif, Ayano, Shiferaw Girma, Teshome Bekele, Gebrelu G Mariam, Seyoum Ayano, Mirhet Dawit, Bethe Sélassié, Fanaye Tesfaye, Bruke, Tahir Bushra Murad, Kalemua Hailu, Anteneh Seyoum, Etiye Dima Poulsen, Gossa Gebre Sélassié, Tewodrosq Tsige Markos, Getachew Yossef, Lulseged Retta, Behailu Bezabih
ART / ERYTREA / Abraham Mogos, Eduardo Araya, Kahssai T. Menghistu, Tesfun Zerabruk
PHOTO / DJIBOUTI /Mohamed Abdallah Kayari, Assamo, Moussa Robleh Awaleh, Ramadan Ali Ahmed, Amin Mahamoud Ahmed, Abdourahman Issa
PHOTO / ETHIOPIA / Geta Mekonnen, Boyadjian, Indrias Getachew Kassaye, Eyobel Zerfa, Nagash Wolde Amanuel
LITERATURE / DJIBOUTI / Moussa Iye, Chehem Mohamed Watta, Abdi Mohamed Farah, Abdourahman Ismaël, William Syad, Abdourahman Wabéri, Idriss Youssouf Elmi, Daher Ahmed Farah
LITERATURE / ETHIOPIA / Gete Mekonnen, Nebiy Mekonnen
CINEMA / Demissie, Haïlé Gerima, Salem Mekuria
ARCHITECTURE HERITAGE DESIGN / Tadesse Gizaw, Geneth Kebede,
TALKS MEMORY  / N'Goné Fall, Heruy Arefe Aine, Emmanuel Daydé
ART NEWS  / AFRICAN SUITES  / Moustapha Dimé, Mohamed Kacimi, Henri Koombes, Ennri Kums, Pascale Marthine Tayou, Elodie Barthélémy, Abdoulaye Konaté, Bethe Sélassié, Pume
Few pages from Magazine RN 24 :
.