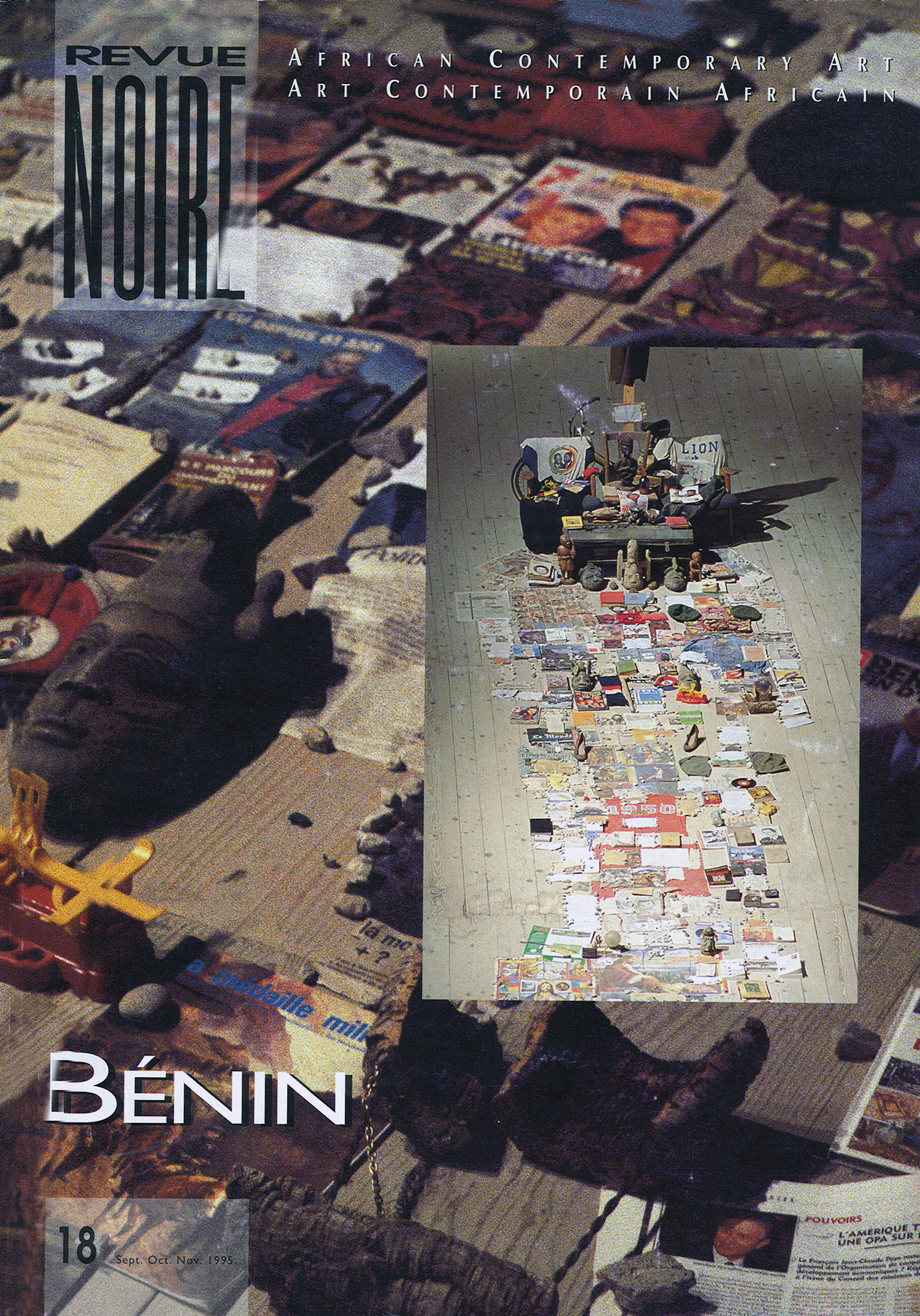 BENIN 
Art Portfolios Georges Adeagbo, Romuald Hazoumé, C'est l'Avenir Zinsou, Dakpogan, Gratien Zossou, Meschac Gaba, Tchif, Zinkpé, Cyprien Tokoudagba…
Panoramas of artists
Photography
Literature : Tribute to Sony Labou Tansi
Dance
Music
Architecture, design
Talks - Memories
Editors Simon Njami, N'Goné Fall and Bruno Asseray
100 pages 33x23cm
Published in September 1995
In French and English
EDITO
Rebuilding Future Palaces
Dirty ruins guard the mysteries of clean, painted tombs. Here a silhouette. There a shadow. Often the silence of the city. In the distance, sad, feeble song. Alcohol. The dead have tombs which invade houses and palaces. They are the holders of memory. Not of history, but of a world beyond, which corpses keep alive for as long as they are celebrated by family memories and keepers of the cult. Like in a fairy tale, the King of the Night returns again and again, taking a seat just there, almost next to you. The demon gnawing at the mind, making you believe in genius, has invaded the city. The spirits have been in decline since the totalitarian system fell like the Wall. The graveyard houses continue to speak to those passing by who think they are looking at the architecture. Occult sanctions fall, absurd. Death is absurd. Hope becomes a façade. Strength and courage become a yawning abyss.
Once again, the north has been lost among all the stifled intrigues of a coast ravaged by the sea's violence. The conspiracy makes all the spirits quake. Madness is not far away. The ruins keep on speaking. The whisky, gin and beer stands all along the road give the passer-by no more than a surfeit of intoxication. Smiles become grimaces. The moon seems full, but the rites of day have fallen silent.
The Whites and the slaves will not be coming tonight, the celebrations cannot begin. Will they return one day? Perhaps the celebration of the discourse of some obscure guilty conscience, or of paper printed with some shoddy truth, might circulate telling a funny story. The story of a easy marriage based on an improbable skin colour making it possible to forget history.
Gods of madness, war and love, why do you make yourselves heard in that way? Twins no longer recognise one another, palaces relegated to being museums are suffocating. Carriages move between the two metaphors of death and exclusion. We are coming too close to the borders. And loose tongues have never had anything to say. Once rid of its shroud and ritual ashes, the body of the initiated must be washed in order to be reborn. Death is simply a moment in life, a way of respecting the past without having to reconstruct it. A way of living the present as continual rebirth.
Tomorrow, the palaces of the future will be rebuilt.
by Jean Loup Pivin
contents of RN 18 :
ART / BENIN / Georges Adeagbo, Romuald Hazoumé, C'est l'Avenir Zinsou, Kouas Gnonnou, Dakpogan, Santos, Aplogan, Gratien Zossou, Meschac Gaba, Tchif, Zinkpé, Biokou, Cyprien Tokoudagba, Yémadjé, Amidou Dossou, Eloi Lokossou, Yves Apollinaire Pédè, Hélène Delprat
PHOTO / BENIN PHOTO / Pierre Fatumbi Verger, Babelle Dunglass, Sténopés
LITERATURE / BENIN / Comlan, Camille Amouro, Florent Couao Zotti, Edwige Aplogan, Gratien Zossou
ARCHITECTURE HERITAGE / BENIN / Palais royal de Honmé à Porto Novo
DESIGN FASHION / BENIN / Pépita D.
TALKS MEMORY / BENIN / Breton, Bruno Asseray, Bruno Thircuir, Tola Koukoui
PHOTO / David Damoison, Racine Harouna Keita
Literature / Tribute to Sony Labou Tansi
THEATRE / Johary, Bin Kadi So, Elian Bachimi, Théâtre Organique, Sony Labou Tansi
CINEMA / 100 Ans de Cinéma d'Egypte, IMA
MUSIC / Tohon, Maika Munan, Boukan Ginen
BOOKS / Lamko, Tahar Bekri, Bernard Gardi, Mohammed Dib, NKA, Raw Vision, Vibrations, aRude, Ada, Black male, René Gardi
ART NEWS / Dak'Art 95, Philippe Ecanvil, Mickaël Bethe Sélassié, Frédéric Bruly Bouabré, Bodys Isek Kingelez, Irène Tassembedo, Ousmane Sow, Ass M'Bengue, El Anatsui
Few pages from Magazine RN 18 :
.