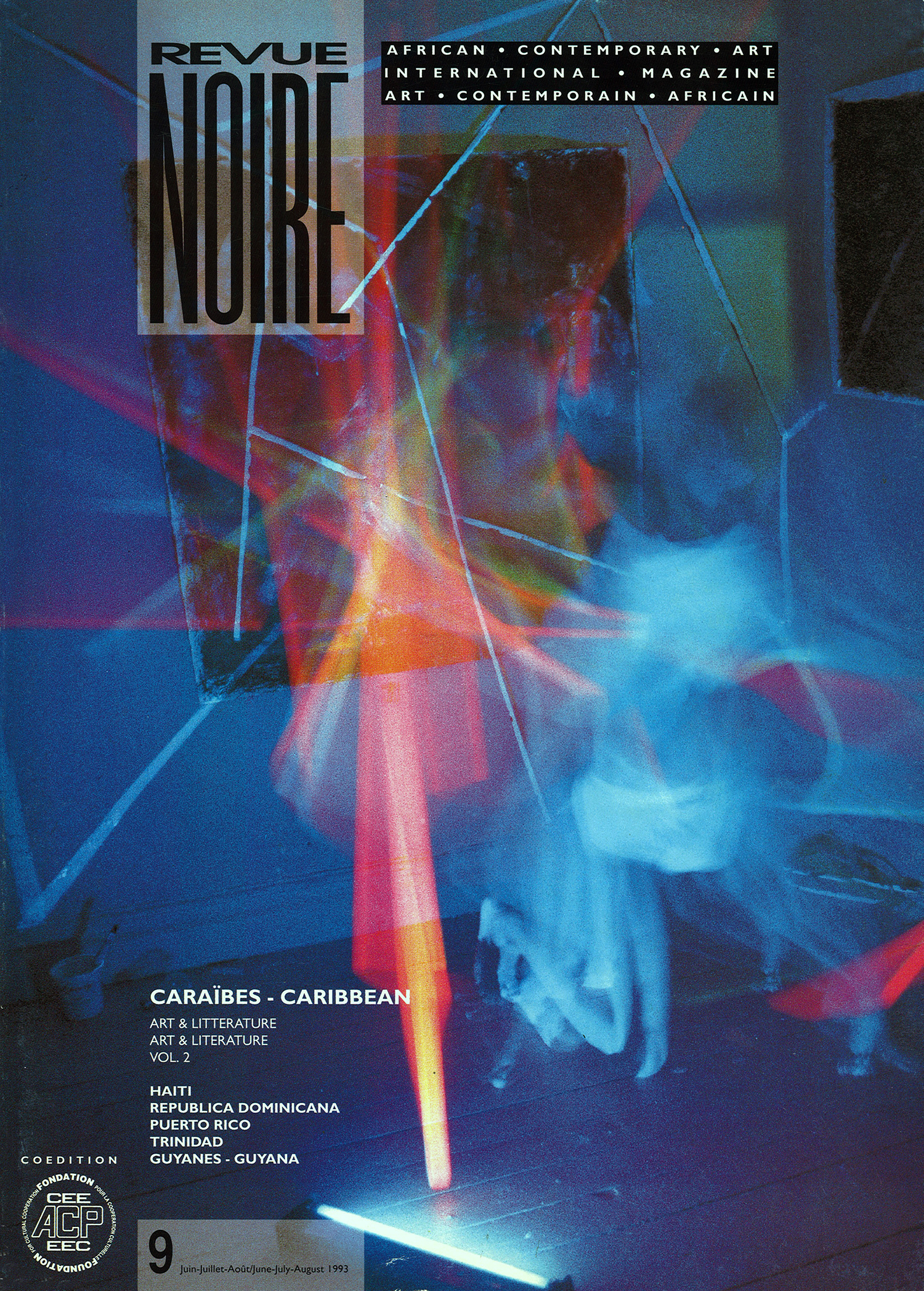 Special issue CARIBBEAN vol.2
Countries perspectives
Haiti
SANto Dominguo
Puerto Rico
Trinidad & TOBAGO
GuyanA
Art portfolios and artists' panorama
Photography
Literature
Editor Simon Njami and Jean-Claude Charles
David Damoison special photographer correspondent
68 pages 40x28cm 
Edition June 1993
In French, English and Portuguese
EDITO
We Will Not Come from the Caribbean
From Rio to New Delhi, from Paris to Cuba, from Cotonou to Santo Domingo, from one bed to another, from an avant-garde to an arrière-garde, from nostalgia to an already surpassed present, from smiles to roaring laughter, from a sun to a moon, from destiny to free will, from drunkenness to reason. Disoriented, lost, we will never come from the Caribbean; we will be from nowhere, from here or from elsewhere.
This second volume devoted to the Caribbean continues to express the same fate. Not being where one is, even if one thinks one is living there. Perhaps this happens more often on an island than elsewhere. Dwelling inside oneself or departing from oneself ? one no longer knows.
Remain the hands and the eyes that touch the skies and the colors.
Remain the head and the tears that tremble with anger, with anger and with pleasure.
by Jean Loup Pivin
Contents of RN 09 :
HAiTI, SAnto DOMINGo, PUERTO RICO,TRINIDAD & TOBAGO, GUYANA 
ART / HAITI / Mario Benjamin, Patrick Vilaire, Steveson Magloire, Ronald Mevs, Roland Bastien, Barbara Prézeau Stephenson, Robert Saint Brice, Edouard Duval Carrié, Frantz Lamothe, Hervé Télémaque, Burton Chenet, Elodie Barthélemy, Roland Jean
STO DOMINGO / Marcos Lora Read, Tony Capellan, Juan Mayi, Inès Tolentino, Antonio Alcantara, Fernando Valera, Victor Ulloa, Jesus Desangles, Jose Castillo, José Garcia Cordero, Paul Recio
PUERTO RICO /Trelles, Jaime Fournier, Dennis Mario, Mirna Baez, Rodriguez Vallès, Mater O'Neill, Passalacqua, Eswin Velasquez, Rivera Villafane, Davila Rinaldi, Roche Rabell, Hernandez Cruz
TRINIDAD / Bowen, Serrao, Cabral, Emheyo Bahabba, Kenwyn Crichlow, Avelino Reyes, Shaw, Cozier
PHOTO / David Damoison, Papillon, Pablo Morel, Ajamu, Franklyn Rodgers, Autograph, Mark Sealy, Derek Bishton, Seydou Keita, Pierre Verger
LITERATURE / Jean-Claude Charles, Robert Berrouët Oriol, Georges Castera, Patrick Sylvain, George Lamming, Marcio Veloz Maggiolo, Gabriela Pearse, Mayra Santos Febres, Ana Irma Rivera Lassen, Tony Medina, Mara Negron, Lasana Mwanza Sekou, Dione Brand, Merle Hodge, Lawrence Scott, Charles Elliot Huggins, Gardiner, Lelawattee Manoo Rahming, Grace Nichols, Wilson Harris, Dominique Martin, Carlos Roberto Gomez Beras, Frankétienne, Lidia Coblan, Ana Lydia Vega, Jean Métellus, John Robert Lee
MUSIC / Papa Wemba, Angélique Kidjo, Lapiro de Mbanga, Ray Lema, François Bensignor
TALKS MEMORIES / Delia Blanco, Pascal Letellier
NEWS FROM THE WORLD / Bili Bidjocka, June Clark Greenberg
FEW PAGES from magazine RN 09 :
.