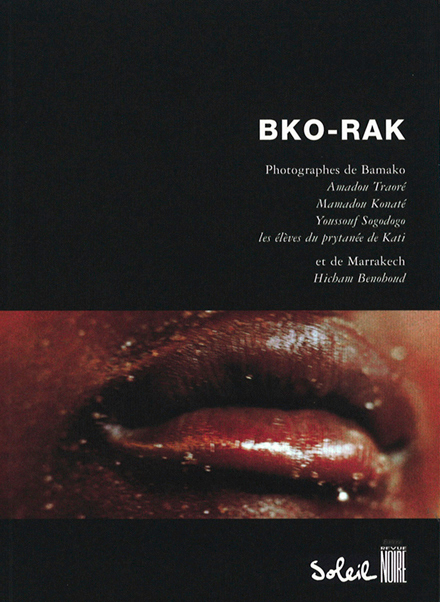 BKO - RAK
With a text by Antonin Potoski
Text by Antonin Potoski,
and 65 B&W and colors photographs of Mali and Morocco by de Amadou Traoré, Mamadou Konaté, Youssouf Sogodogo, the school boys of the Kati Academy and by Hicham Benohoud.
A book about the strange and immediate world of the children, where the objects and the body count rather little. Images made with tenderness, dizziness and desire of carelessness.
(extract)
"Mamadou kneels in the light of the fridge wide open. He removed the gates and with a spoon he scrapes the white frost that has accumulated on the back wall. I told him that skiing, when one is thirsty, eate handfuls of snow that melts in your mouth. So since every time he comes home it's his ritual, he eats the snow of my fridge, like skiing. It makes me come near him, he brings the spoon to his mouth, sucks the powder of a sudden frost, it strangles him, and he was coughing in my direction so that the flakes fall on my face.
- Is it like that when the snow falls ?
- Yes, it is almost like that, except that the flakes are lighter.
He vibrates when I speak of the cold, steam coming out of the mouth when one breathe in the air of the chilly winter days ...
Mamadou aked :
Do you can write my book ?
He would like that I write a book with stories of the Sahel boy who dreams to fly and touch the snow ..." 
Editor Antonin Potoski
96 pages 14×19 cm
Published in 1998
In French only
ISBN 2 909571 483 - EAN 978 2 909571 485
Few pages from the book 'Bamako Marrakech' :
.