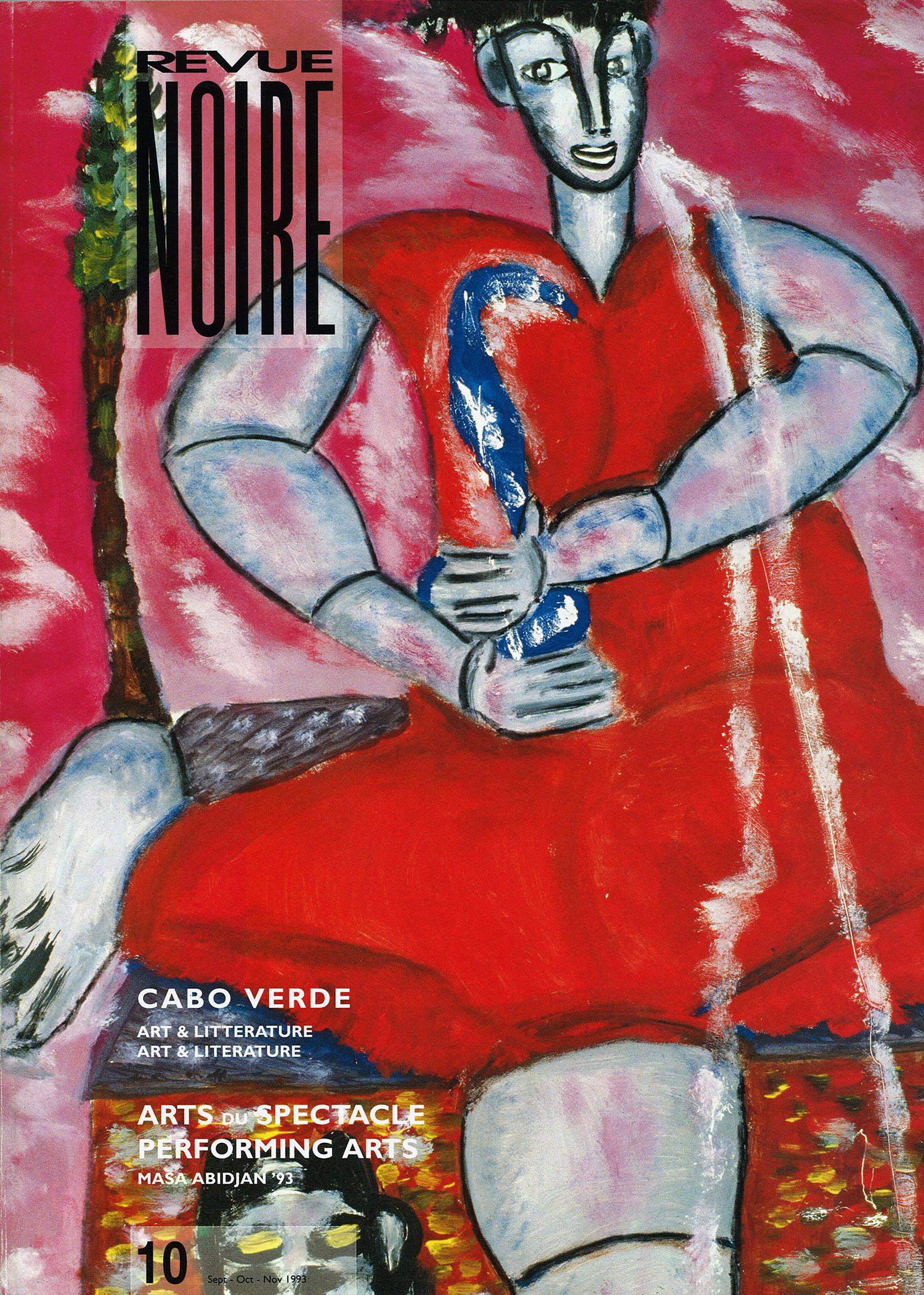 Country perspectives
 CaPe-Verde
Art Portfolios and artists' panorama
Photography
Literature
Special Performing arts
Dance, theater, music
Editor Jean Loup Pivin
68 pages 40x28cm 
Published in September 1992
In French, English and Portuguese
EDITO
The Time of the Alien
Truths and lies are always to be found in other places, on distant horizons. The "true self" is too close to home, too secret to enable us to really tell what it represents in one's own society, in one's  own country. Even if everyone tends to shower us with stereotyped images of the country that they suppose to be ours. Just as if the Human Being from birth was a merchandise that cannot change. If we are what we were, believing in man's freedom would also imply that we are what we become. There is no finished product, simply a product that is constantly changing.
True feeling of freedom are to be found in places that do not belong to us. Real feelings of difference appear when the other is an integral part of us and this difference is no longer physical, but cerebral. It's when I become White that I declare my Negritude, but it's only when I become a citizen of the world that I can claim to be French, Algerian or Malian.
The sea is there, fluid, violent, immense. What can I do to possess it ? What can I do to stop it fascinating me ? How can I not ask it to carry me for a while, for the time I am here, nowhere ? The wind incites me to throw sheets of paper up into the sky to carry my dreams to other shores. The mythical Cape Verde Islands are there, as if to say that only "elsewhere" is possible. The Cape Verde Islands are a land where one can live elsewhere. Land rights become a pointless promise, beggars trouble the waters of the cascades, time cannot erase everything, time cannot fulfil every need.
Elsewhere, always elsewhere, just to know that elewhere is always home.
by Jean Loup Pivin
contents of RN 10 :
CapE-Verde
ART / Tchale Figueira, Barros Gizzi, Manuel Figueira, Nancy Baptist, Maria Luisa Queiros, Isabel Duarte 
PHOTO / Figueira, Ron Barboza, Claire Andrade Watkins
LITERATURE / Dina Salustio, Luiz Silva, Corsino Fortes, Vera Duarte, Maria Margarida Mascarenhas, Teobaldo Virginio, Vasco Martins, Kodé di Dona, Teofil Chantre
performing ARTS
DANSE / Le marché des arts du spectacle, le MASA d'Abidjan, Irène Tassembedo
THEATRE / Bruno Tilliette, Punta Negra, Sony Labou Tansi, Tchicaya U Tam'si, Linga Tere, Vincent Mambachaka, Richard Demarcy, Tract, Philippe Dauchez, Les Intrigants, Landu Mayamba Mbuya
MUSIQUE / Lokua Kanza, Oumou Sangaré, A. Free K, Zao, Zouglou, Rap, RAS, Césaria Evora, François Bensignor, Frank Tenaille
ARCHITECTURE PATRIMOINE DESIGN  / Leao Lopes
ART / Tamsir Dia, Dakpogan, Mohamed Haidara, William Wilson
PHOTO / Dorris Haron Kasco, Pierre Verger
LITTERATURE / Jean-Claude Charles, Severo Sarduy
Few pages from magazine RN 10 :
.