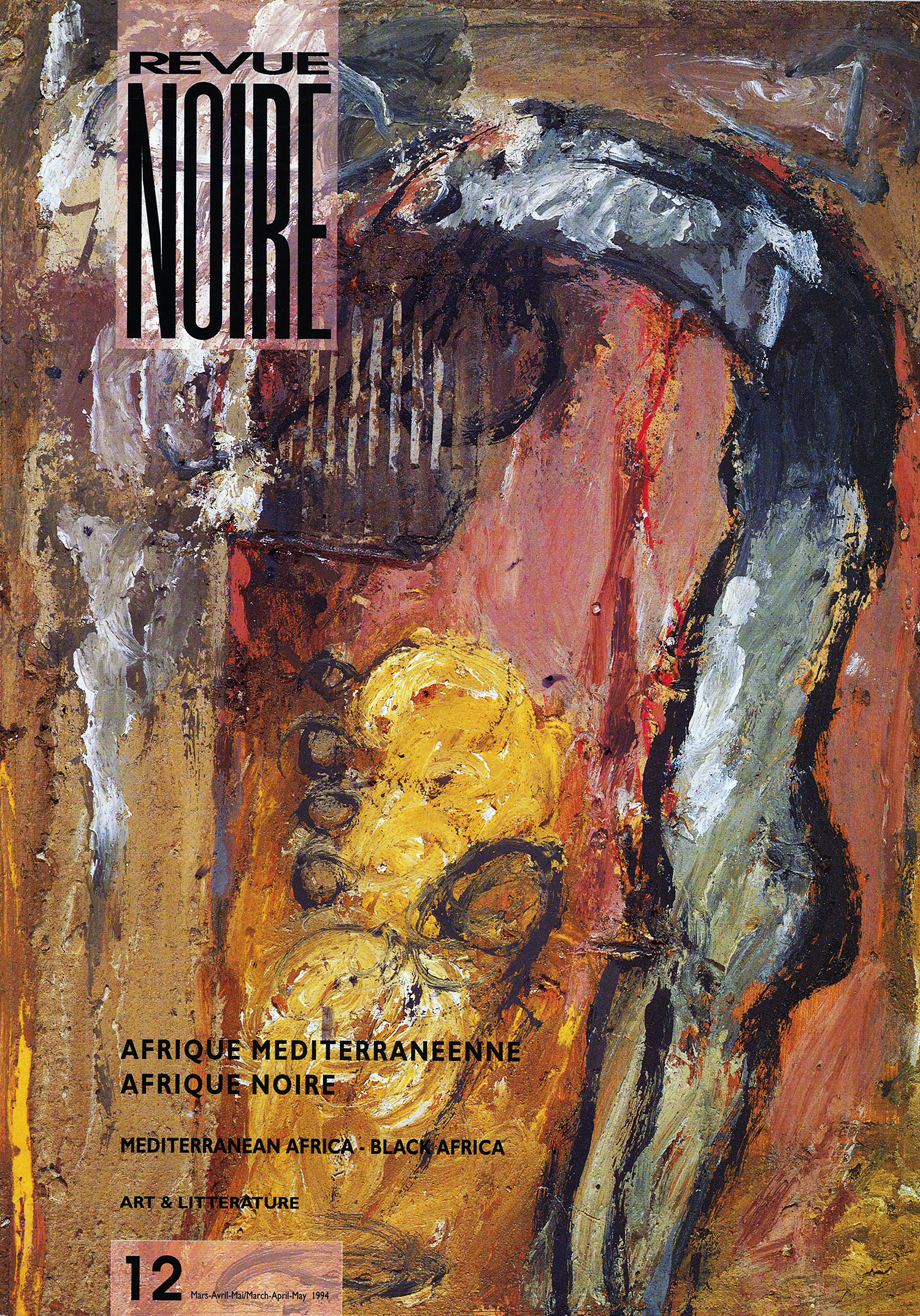 BLACK AFRICA /
MEDITERRANEAN AFRICA
Face to face artists from Black Africa / Mediterranean Africa 
Art portfolios : Farid Belkahia, Frédéric Bruly Bouabré, Kivuthi Mbuno, Gera, Cyprien Tokoudagba, Abdoulaye Konaté, Gouider Triki, Adel El Siwi, Rachid Koraïchi, Kacimi, Hammed Bouheddadj
photography
Literature
Design
Editor Jean Loup Pivin
Published in March 1994
68 pages 40x28cm 
In French and English
EDITO
The Rose of the Gods
There will never be anything to unterstand. The slave, the warrior, the colonist, the hide stretched across drums, the strings of violins and coras, the Black man, the White man, the White-Black man, the Black-White man, the infinitude of the sea, the infinitude of the desert. An inhabited border. A filter composed of peoples who pass on values, poems, songs, salt and gold, the messengers of a god, the messengers of gods, the blood of wars. The color of blood that is always the same, accentless. raceless, flowing from vein to or spilling out on the sand and on the red, brown or beige soil.
Mourning, love, hate, fascination, repulsion, doubt, separated by the desert, the two Africas have not met up with each other for a long time. Today, however, perhaps once again in those rare individuals who do not believe in an absolute, exclusive truth, but who know that the South houses the compass card which indicates other truths now so dispersed that they can be gathered only for oneself. The path of truth is in the South, the truth is in the North. Who is the surest of himself ? He who has the truth or he who knows that truth only exists in the path taken, each day a little wider ?
Death has nothing to do with the situation, for it is there all the time.
by Jean Loup Pivin
contents of RN 12 :
ART / Farid Belkahia, Frédéric Bruly Bouabré, Kivuthi Mbuno, Gera, Cyprien Tokoudagba, Abdoulaye Konaté, Gouider Triki, Adel El Siwi, Rachid Koraïchi, Kacimi, Hammed Bouheddadj
PHOTO / Hamani, Touhami Ennadre, Jellel Gasteli, Philippe Bordas
LITERATURE / Bekri, Mohammed Bouchared, Samy Abtroun, Ahmed Kalouaz, Abdouh Joubayr, Ahmed El Madini
CINEMA / Kareche, Cinémathèque d'Alger
DESIGN / Yamo
TALKS MEMORY / Pisani, IMA, Institut du Monde Arabe, Brahim Alaoui, Boudjemaa Kareche, Denis Escudier, Watatu Foundation, Jacques Mercier , Nicole de Pontcharra, Mustapha Orif, Isma, Jean Loup Pivin
Few pages from magazine RN 12 :
.