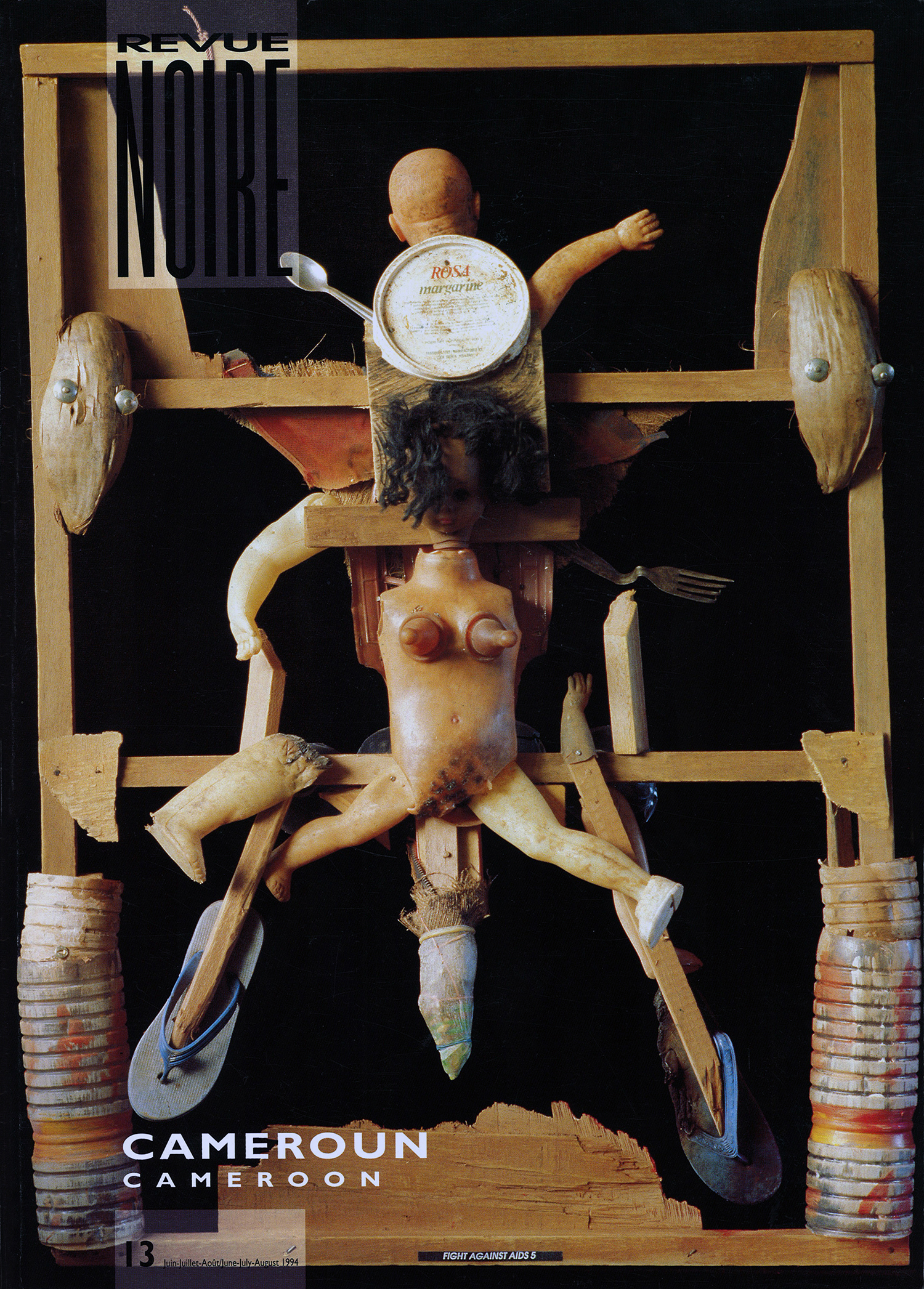 Cameroon
Art portfolios : Pascale Marthine Tayou, Bili Bidjocka, Dicko, Mbezele Solo Aloys…
Visual art panorama of artists from Cameroon
Photography
Literature
Cinema
Music
Design
Art & AIDS
Tribute to Chris Seydou
Chris Seydou, Malian fashion designer, is deceaded. Tribute
Talks - Memoires
Editor Jean Loup Pivin
68 pages 40x28cm
Published in June 1994
In French and English
EDITO
Of Love
Can one blame our day and age for having invented techniques designed to better understand mankind and especially for having convinced us, momentarily, that the destiny of a society or an individual depended upon these same techniques ?  History, sociology, psychoanalysis, and ethnology have so profoundly invaded reality that it has been transformed into an vast hymn of commentary. In response, artistic creativity has never stopped desiring to kill itself and then be reborn, sometimes forgetting « The Days of Geniuses ». The burial had to take place.
Therefrom has perhaps sprung a proof of our liberty. Yet what liberty besides that of despair ? An existence made up of acts, of exchange and confrontation, of love and hate, of doubts about life and death, little adapts to structures and schematic categories aiming to deconstruct a hypothetical "how", when it is the "why" that alone interests us.
Why did Chris Seydou die ? Why are the Sudan, Angola, the Congo, Burundi and Rwanda, liquidating fantasies of difference by means of horror and death ? Why has Cameroon approached the abyss of hate ? Why AIDS ? Why should one continue to believe that love will triumph when selfishness and murderous madness vomit up mass graves everywhere ?
Has death become a human being's primary liberty, its contemplation the sole object of his life ?
by Jean Loup Pivin
contents of RN 13 :
ART / CAMEROON / Pascale Marthine Tayou, Bato, Joseph Francis Sumégné, Barthélémy Toguo Tamakoné, Bili Bidjocka, Mbezele Solo Aloys, Diako, Nzante Spee, Pascal Kenfack, Komégné, Dikoumé, Kouam Tawagje, Joël Mpah Dooh, Ndjeng Rigobert Aimé, Hervé Yamgen, Pefura, Tchebetchou, Doual'Art 
ART / Braïma Injaï, Tapfuma Gutsa, Kan-Sy
PHOTO / Thomas Nintcheu Monkan, de Barros Duchêne, Mix Gueye, Boubacar Touré Mandémory
CINEMA / Ba Kobhio, Jean Pierre Bekolo
MUSIC / Jacques Elangué, Les Têtes Brulées
ARCHITECTURE DESIGN / Danièle Diwouta Kotto
TALKS MEMORIES / Simon Njami, Doual'Art, Marilyn Douala-Bell, Didier Schaub, Adame Ba Konaré, Pauline Awa Bary, Cléo Sary
AIDS / LITERATURE / Mongo Beti, Blaise N'Djehoya, Antoine Assoumou, Fernando d'Almeida, Marcel Saint-d'Anchs, Bole Butake, G.B. Samie Moukhat, Marcel Zang, Jonathan Kenfack Guimezang, Michèle Rakotoson, Koulsy Lamko
TRIBUTE TO KRIS SEYDOU by Alphadi, Mickael Kra, Reine Pokou, Oumou Sy…
few pages from Magazine RN 13 :
[run the slideshow below]