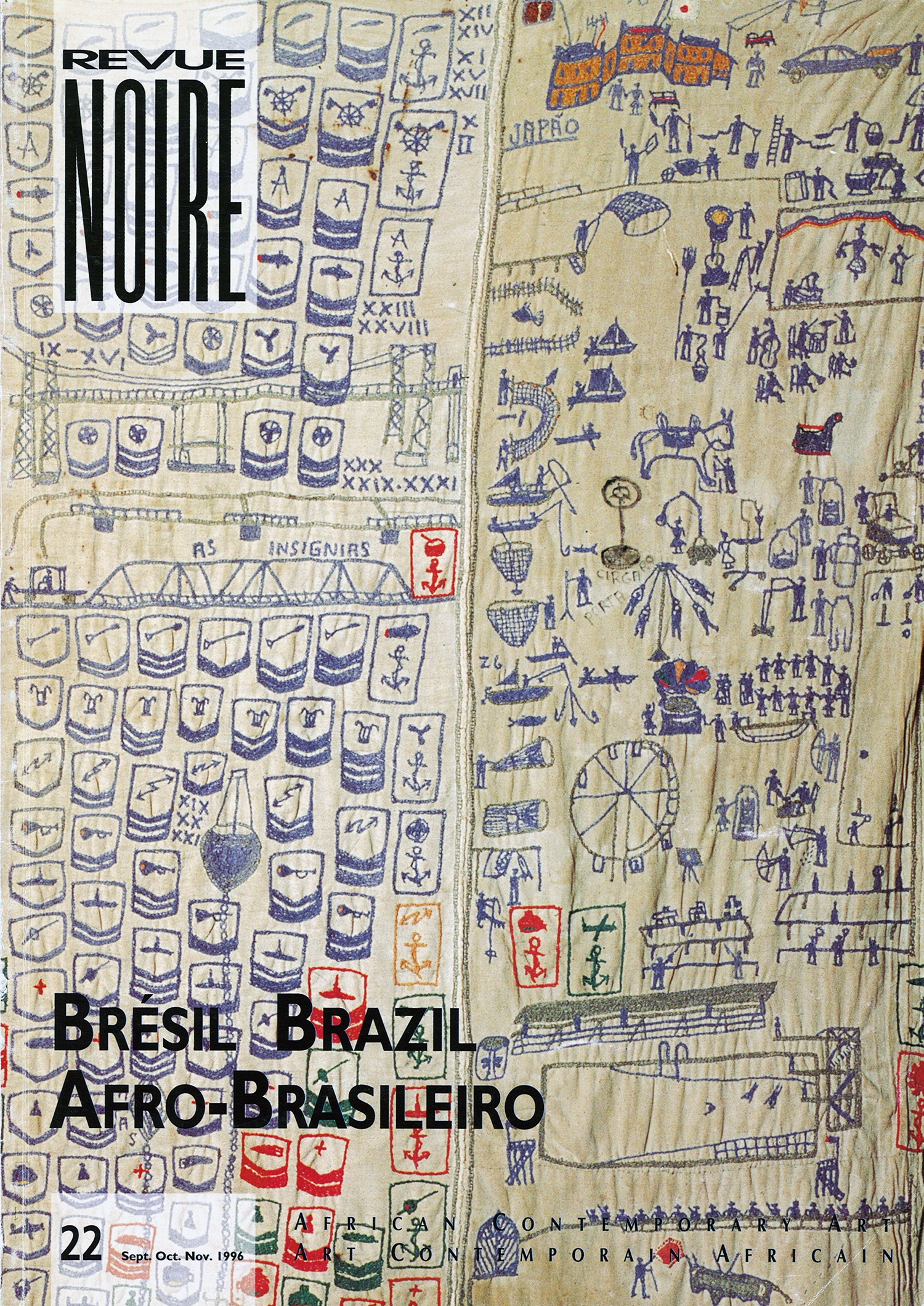 Afro-Brazil 
Art Portfolios: Jorge Dos Anjos, Chico Tabibuaia, Arthur Bispo Do Rosario,  Cildo Meireles…
Panoramas of Afro-Brazilian artists
Photography : Pereira Jr., Januario Garcia, Pierre Verger, Lucia Villar Guanaes, Eustaquio Neves, Cuia Guimaraes, Bauer Sa, Walter Firmo…
Literature
Music
Architecture, design
Talks - Memories
Special Afro-Brazilian Dance
Nobrega, Grupo Corpo, Lia Rodrigues, Deborah Colker, Terceira, Gisela Rocha, Rubens et Barbot, Angélica Chaves, R. J., Joao Viotti Saldanha, Castafiore, Marcia Barcellos, Karl Biscuit, A Fleur de Peau, Denise Namura, Michael Bugdahn, Helena Bastos, Omstrab, Fernando Lee, Marcia Milhazes, Regina Miranda, Stagium, Marika Gidali, Decio Otero, Vera Lafer, Sera Que ?, Rui Moreira
ART Biennal IN DAKAR 1996
Abdoulaye Konaté, Pascale Marthine Tayou, Georges Adeagbo, Viye Diba, Bouna Medoune Seye, Babacar Sedikh Traore, Moustapha Dimé
Editor André Jolly
100 pages 33x23cm
Published in September 1996
In French, English and Portuguese (Brazil)
EDITO 
Clichés, fictions, realities
In the buses of rival companies thrown in a crazy race, anynimous passengers hum a successful tune.
The Pagode, the funk, the rap coming down from the favellas, invade the streets and the beaches. The yuppies improvise handy telephones' ballets in the commercial centers' escalators. The language sings, always, like the bodies dancing in the sensuality of gazes. Brazil, halfcaste but with no halfcaste money.
Images, clichés, as much fictions and realities for a country-continent.
Today.
by Jean Loup Pivin
contents of RN 22 :
ART / Jorge Dos Anjos, Rosana Paulino, Chico Tabibuaia, Arthur Bispo Do Rosario, Araujo, Mestre Didi, Washington Santana, Cildo Meireles, Genilson Soares, Diniz, Emma Vallee, Maestre Gabriel, Gallinari
PHOTO / Pereira Jr., Januario Garcia, Pierre Verger, Lucia Villar Guanaes, Eustaquio Neves, Cuia Guimaraes, Bauer Sa, Walter Firmo, Adenor Gondim
LITERATURE / Ricardo Aleixo, Leda Martins, Edilmilson de Almeida Pereira, Nubia Pereira, Oswaldo de Camargo, Jayme Carvalho, Ricardo Aleixo, Paulo Colina
DANCE / Nobrega, Grupo Corpo, Lia Rodrigues, Deborah Colker, Terceira, Gisela Rocha, Rubens et Barbot, Angélica Chaves, R. J., Joao Viotti Saldanha, Castafiore, Marcia Barcellos, Karl Biscuit, A Fleur de Peau, Denise Namura, Michael Bugdahn, Helena Bastos, Omstrab, Fernando Lee, Marcia Milhazes, Regina Miranda, Stagium, Marika Gidali, Decio Otero, Vera Lafer, Sera Que ?, Rui Moreira
MUSIC / Olodum, Os Racionais, Milton Nascimento
TALKS MEMORY  / Baitello, André Jolly, Gideon Rosa, Lena Frias, Cassia Navas, Emanoel Araujo
ART NEWS / ART BIENNAL IN DAKAR 96 / Dak'Art 1996, Abdoulaye Konaté, Pascale Marthine Tayou, Georges Adeagbo, Viye Diba, Bouna Medoune Seye, Babacar Sedikh Traore, Moustapha Dimé
Few pages from Magazine RN 22 :
.