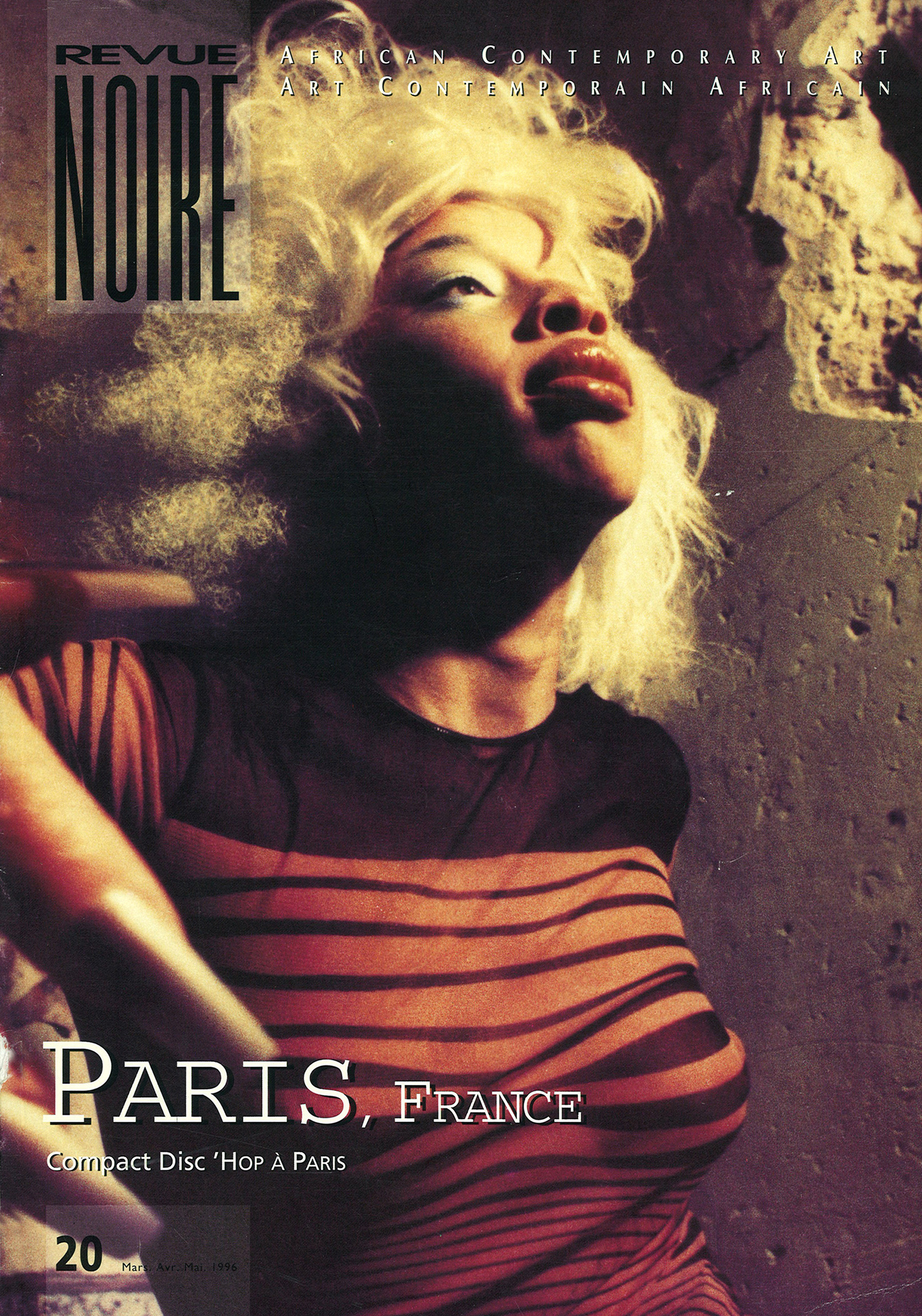 BlaCk Paris 
Art Portfolios Shuck, Christian Sabas, Elodie Barthélémy, Joneone, Aboudramane, Bili Bidjocka, Bethe Sélassié…
and panoramas of black French artists
Photography
Literature
Dance
Music
Architecture, design
Talks - Memories
AFRICAN ARTISTS AND AIDS 
Mickaël Bethe-Sélassié, Bili Bidjocka, 'Une parole un visage' Hiv positive talks
Original CD 'Hip Hop in Paris'
Songs by  Sophia Charaï, Joséphine Baker, B-Love, Rootsneg, King Mensah, Rosy Bazile, DaSoulman, Nasty, Sages Poètes de la Rue, D.Abuz System, Mama Intellect, Brice Wassy, Tchok Art Babnd, Ku Music, La Cliqua, ABS
Editors Jean Loup Pivin, Simon Njami, Pascal Martin Saint Leon, Amédé Mulin, Nathalie Rosticher
100 pages 33x23cm
Published in March 1996
In French and English
EDITO 
Paris. Hop, Two Three Four ! Everything Goes Light and Airy
The world dictator enrols himself in a play where words on glory and posterity are declaimed. The text is deaf. The play's main character is a city whose strength lies in controlling of all the assembled powers and in its powerlessness to integrate nature, life and death. The strength of its weakness. Cut flowers are planted in vases with no concern for reproduction. They will wilt and be replaced.
The eternal story of the young-man-from-afar attracted by the bright lights of the big city to escape the fate imposed upon him, to find the space his mind and body needed to express his freedom of speech and existence, to escape heralded death. The big city doesn't wait for him, or if so only to wear out his youth and energy before either throwing him out or integrating him according to its very own codes. The city is not a rampart, but a succession of hollows. Streets, crossroads and squares map out the town. A vast labyrinth where each crossroads leads you down the dead-end of your self or lets you carry on without ever being able to stop.
The city is not soft, the city is hard with its stones bordering every path, its closed windows like eyes that never look at you. It's been a long time since street singers wandered the streets. A long time since images were made in the streets of theatres or stations. A long time since concierges spied on everyone's comings and goings. The city has becomes a machine where the young-man-from-afar has only his solitude to add to the solitude of others. To assert that the city's only god is itself. The only thing its cathedrals venerate is their own architecture. There is no more communion in the city. You scrawl your solitude onto pages, images and music to make sure that your own noise is part of the city's noise.
Anonymous, never recognised, even if the clan he ends up latching on to seems to invade the huge space of the capital, the young-man-from-afar enjoys this anonymity like he would a song whose chorus sings the freedom of being what you think you are for a day, a second, the time it takes the big city to hurry you into your demand for solitude. (…)
But the young-man-from-afar probably hasn't understood that yet.
by Jean Loup Pivin
contents of RN 20 :
ORIGINAL CD recorded for Revue Noire included in the magazine
ART / PARIS / Dinh Mandengué, Shuck, Christian Sabas, William Sagna, Elodie Barthélémy, Ass M'Bengue, Joneone, Afi Nayo, Ismael Mundaray, Alexandre Ekué Mensah, Tibari Kantour, N'Guessan Kra, Aboudramane, Absalon, Asnour, Bili Bidjocka, Bethe Sélassié, Myriam Bâ, Humberto Castro, Diagne Chanel, Diako, Fofana, Dimma Poulsen, Moise Finalé, Braïma Injaï, Bale Khanb, Godefroy Kopuassio, Abderrahim Yamou, Trewodros Markos, N'Dangani Mavambu
PHOTO / Akwa Bétoté, Amadou Gaye, Michel Bocandé, Patrice Felix Tchicaya, Alain Hermann, Darryl Evans, Omar Fall, Pierre Verger
LITERATURE / Moussa Iye, Franck Houndégla, Ayoko Mensah, Alain Mabanckou
DANCE / Hip Hop, Akim Maïche, Sobedo, Pambe Wayack, Julie Dossavi, Kettly Noël, Merlin Nyakam
CINEMA / Boni Claverie, Désiré Ecaré, Dany Kouyaté, Hassane Kouyaté
MUSIC / Revue Noire Hop à Paris, Sophia Charaï, Joséphine Baker, B-Love, Rootsneg, King Mensah, Rosy Bazile, DaSoulman, Nasty, Sages Poètes de la Rue, D.Abuz System, Mama Intellect, Brice Wassy, Tchok Art Babnd, Ku Music, La Cliqua, ABS
DESIGN  / Xuly Bët, Mickael Kra, Ly Dumas, Mike Sylla, Fanny , Willi G., Gigi Calo, Frank Houndégla, Balthazar Faye, Chérif Medjeber, Yamo, Abdi
TALKS MEMORY  / Jean Loup Pivin, Simon Njami, Bashir N'Diaye, Nathalie Rosticher
BOOKS / Jean- Raharimanana, Mamba, Waberi, Achille Ngoye, Sony Labou Tansi, Mohamed Kacimi
ART NEWS  / Bruno Pédurand, Andries Botha
AFRICAN ARTISTS and AIDS / Mickaël Bethe-Sélassié, Bili Bidjocka, 'Une parole un visage' Hiv positive talks
Few pages from Magazine RN 20 :
.