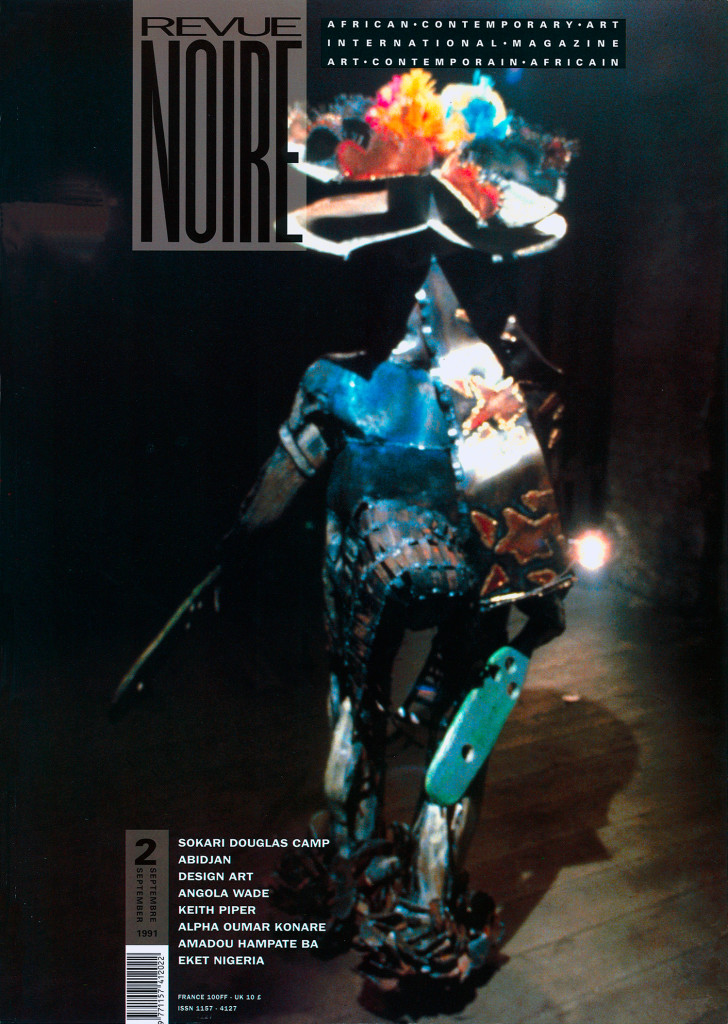 ART MONOGRAPHY
Sokari Douglas Camp
Animated and sonorised metal sculptures from her inspiration Yoruba – UK-Nigeria
CITY PERSPECTIVES
Abidjan – Ivory Coast
Focus : Frédéric Bruly Bouabré, Aboudramane
Panorama of Ivorian artists
Theatre and fashion in Abidjan
ART FOCUS
Keith Piper (UK-West Indies) : "A Ship Called Jesus"
DESIGN
Ya Ya (USA) , Ndong Menzamet, Pépin Antonio (Gabon), William Wilson (France-Togo), Mauro Petroni, Vincent Niamien (Ivory Coast)
TALKS
with Alpha Oumar Konaré, director of ICCROM
LITERATURE
Amadou Hampaté Bâ by Bruno Tilliette
Editor Jean Loup Pivin
60 pages 40x28cm
Published in September 1991
In French and English
EDITO
BEYOND A NOSTALGIA FOR MASKS
Is it reasonable to discourse culture, sculpture and painting, art, in Africa where aIl is turmoil : economic depression, political crises, social upheaval ?
In these troubled times, isn' t the value of the word culture itself disputed ?
What sort of project can satisfy young people aware of the world's injustice and the injustices of their own countries, more interested in acquiring an international culture and international consumer goods than acquiring a national culture with its~safe, classic values ?
How mu ch is someone killed in a demonstration worth compared to a painting or a text ? Have words and art still any real influence on vested interests ? What part do artists and especially painters have to play in contemporary African movements ?
How to interpret the fact that African artists go into exile as soon as they want to express their talents ? Which means that more African artists are living today in Paris, London or New York than in Abidjan or Lagos.
There should be no ready-made answers to these vital questions concerning the role of African creative art in-affirmations of national identity and in world culture. But we must set the debate rolling with the viewpoints, in this issue, of Mali's Alpha Oumar Konaré. It will be continued in later issues. There will be no economic development and no real political evolution in African countries if they don't recognize the importance of their national products in the field of art and culture, if they can't go beyond a nostalgia for masks. That we are sure of, and that is why we have created Revue Noire. Take your time : look at what you can show you, in this issue, of the sculptures by Sokari Douglas Camp from Nigeria, or of the paintings by Tamsir Dia from Ivory Coast, or of Keith Piper's installations.
by Jean Loup Pivin
CONTENTS OF RN 02 :
ART MONOGRAPHY / Sokari Douglas Camp, UK-Nigeria. Metal sculptures Yoruba.
CITY PERSPECTIVES / ABIDJAN, IVORY COAST / Frédéric Bruly Bouabré, Aboudramane, Youssouf Bath, Tamsir Dia, Jean Gensin, Zirignon Grobli, Théodore Koudougnon, N'Guessan Kra, Mathilde Moro, Vincent Niamien, Bakari Ouattara, Touré Yacouba /
THEATRE /  Souleymane Koly , WereWere Liking
FASHION / Macy Domingo
ART / Keith Piper (UK-West Indies)
PHOTO / Dominique Wade in Angola
LITERATURE / Amadou Hampaté Bâ by Bruno Tilliette
CINEMA / Recidak, Pierre Haffner
MUSIC /  Binda Ngazolo
DESIGN / Ya Ya, Ndong Menzamet, Pépin Antonio, William Wilson, Mauro Petroni, Vincent Niamien
RITUAL ART / Ekpo from Nigeria
TALKS MEMORIES / Alpha Oumar Konaré, Yacouba Konaté, Pierre Gaudibert
BOOKS /  Nicolas Martin Granel
NEWS from African contemporary art /  Museum für Völkerkunde Frankfürt, Africa Explores 20th Century African Art New York
FEW PAGES FROM MAGAZINE RN02 :
.