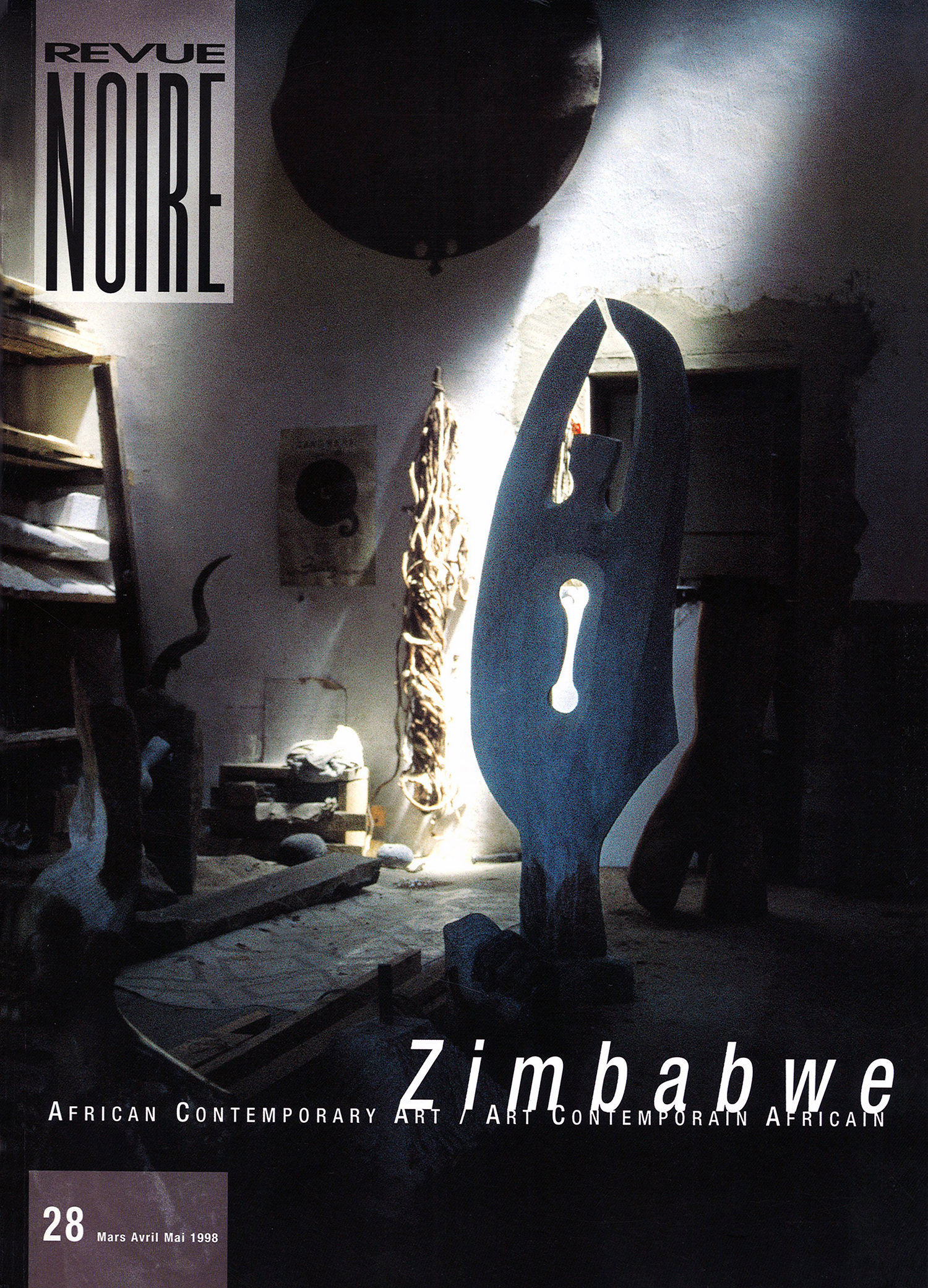 ZIMBABWE
Art Portfolios : Tapfuma Gutsa, Berry Bickle…
Artists Panorama 
Photography : David Brazier, Calvin Dondo, John Mauluka…
Literature - théâtre : Yvonne Vera, Chenjerai Hove, Dambudzo Marechera…
Dance : Tumbuka
Cinema
Music
Design - mode
News : exhibit 'L'Art dans le monde' (Art in Worlwilde)
Africa by AFRICANS
A Revue Noire African photo Exhibition ('L'Afrique par Elle-Même')
Photographers : The 'Saint Louisiennes', Mama Casset, Attoumou Amicchia, Ramilijoana, Sakaly, Cornélius Augustt Azaglo, Jean Depara, Philippe Koudjina, Bob Gosani, joseph Makula, Congo Press, Bouna Medoune Seye, Akinbode Akinbiyi, Antoine Freitas…
Editors Jean Loup Pivin and Pierre-Laurent Sanner
100 pages 33x23cm
Edition de March 1998
In French and English
EDITO
They Dance Alone
Illuminated by the shadows of the sun and moon the ancient images of rock paintings dance in the open air, moving from stone to stone across hundreds and thousands of years, inhabiting their own space and timelessness, existing for nature, animals and those who seek out their presence. Less than a century ago they were said to have been created one, two or even ten thousand years ago on a territory extending from Zimbabwe to Drakensberg in Southern Africa and the heart of the Brandberg region of Namibia. By the middle of the 19th century many of the conjectures concerning their origins had ended, and today little more is known about them than what specialists advance with caution and humility.
To assert that there is a connection between the spirituality  of these eternal frescoes and the Shona sculptures destined for the tourist trade would be pure demagogy and totally unrealistic. An entire world has vanished, leaving these painted figures beneath the sky as the sole testimony of its existence. It has been replaced by another, which is transforming the earth into stone and machines, filling it with the clutter of its own detritus.
If there is a connection between the two, it would  be the cinema, with its shifting immaterial images projected in night-like obscurity. The cinema of Zimbabwe exists, both as scenery for Americans and as an image of its own reality for Zimbabweans. The hunters, the herders with their flocks and the shamans mediating between the gods within us and those without await in all their elegance and force : prudently avoiding any other material heritage, they motion to us with painted signs, not only in southern Africa, but in China, Brazil, Europe and across the entire planet. Will we be capable of understanding their message of spiritual rebirth ?
par Jean Loup Pivin
contents of RN 28 :
ART / ZIMBABWE / Tapfuma Gutsa, Rashid Jogee, Vito Thebe, Ismael Wilfred, Chico, Helen Lieros, Tendai Gumbo, Keston Beaton, Adam Madebe, Berry Bickle, Luis Meque, Misheck Gudo, Zephania Tshuma, Nicholas Mokomberanwa, Colleen Madamombe, Henry Munyaradzi, Crispen Matekanya, Claude Nyanhongo, Chaminuka Zvinavashe
PHOTO / ZIMBABWE / David Brazier, Calvin Dondo, Colleen Madamombe, Charles Kamangwana, Andrew Curling, Clive Venning, John Mauluka, Luis Basto, Ian Murphy, Archives Nationales
LITERATURE / ZIMBABWE / Yvonne Vera, Charles Mungoshi, Shari Eppel, Togara Muzanenhamo, Chenjerai Hove, Voti Thebe, Dambudzo Marechera
DANCE / ZIMBABWE / Tumbuka
CINEMA / Isabelle Boni-Claverie, Amédé Mulin, Jean Pierre Bekolo
ARCHITECTURE HERITAGE DESIGN / Chaz Maviyane, Patrick Moulton Black, Kurt Heyns, Gisa Narracott, Sonny Mackolisky, Yvonne Vera
TALKS MEMORY /Pierre-Laurent Sanner, Whaley, Herbert Schwamborn
EXHIBITIONS / AFRICA BY AFRICANS 
Exhibition at the Maison Européenne de la Photographie à Paris 'L'Afrique Par Elle-Même'
Photographies :  Les Saint-Louisiennes, Mama Casset, Attoumou Amicchia, Ramilijoana, Sakaly, Cornélius Augustt Azaglo, Jean Depara, Philippe Koudjina, Bob Gosani, joseph Makula, Congo Press, Bouna Medoune Seye, Akinbode Akinbiyi, Antoine Freitas, Anthologie de la Photographie africaine, Sidiki Traoré, Thierry Alet
FEW pages FROM Magazine RN 28 :
.