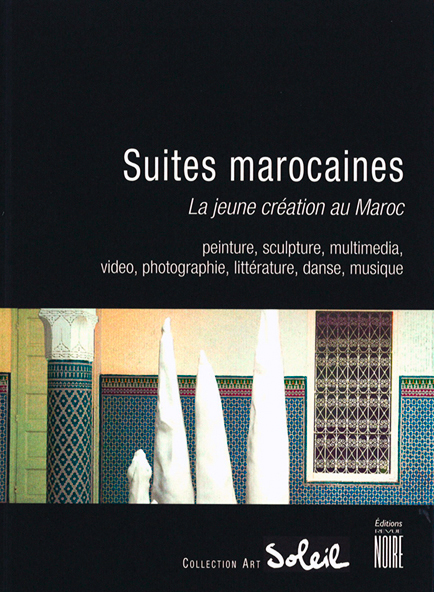 Young creations in Morocco 
Foreword by Emmanuel Daydé.
Visual Art : Khalil El Ghrib, Mounir Fatmi, Hicham Benohoud, Ahmed El Mourabet, Mohamed El Baz, Ikram Kabbaj, Dounia Oualit, Najia Mehadji, Abderrahim Yamou, Abdelkrim Ouazzani.
Photography : Ali Chraïbi, Thami Benkirane, Lamia Naji.
Literature : Abdallah Zrika, Sadki Azaykou, Fouad Laroui.
In Morocco, the most active proponents of fundamentally contemporary art, still surprisingly alive, adopt positions more radical, like the country in real and profound change. Finally released a stifling tradition as to better reinvent, the young generations, who are now between thirty and fifty years, and have been presented to the "Couvent des Cordeliers in Paris in the exhibition "Moroccan Suites" during the event "Time of Morocco", left the desert and its mirages for the city and its ravages.
What do they say, these emerged new voices have arisen from Casablanca city, from Asilah the quiet, from Marrakech the rustling, or Paris, Lille and Berlin ? They say lost identity, meroded memory and  desert of art. Interested in new materials such as new areas, eager technology or, conversely, want to end it, artists, photographers, musicians and choreographers of a Morocco around the world try to bridge East and West. If indeed there is mixing on both sides of the Mediterranean, it nonetheless leads to a specifically Moroccan art, both wild as a novel by Mohamed Choukri or a dance of Guedra, and refined as Berber carpet or ceramic from Fez.
Emmanuel Daydé (extract)
Editor Emmanuel Daydé
Visual Arts, photography, literature 
Published in 1999
En français seulement
ISBN 2 9909571 505 - EAN 978 2 909571 508
Few pages from the book 'MOroccan Suites' :
.