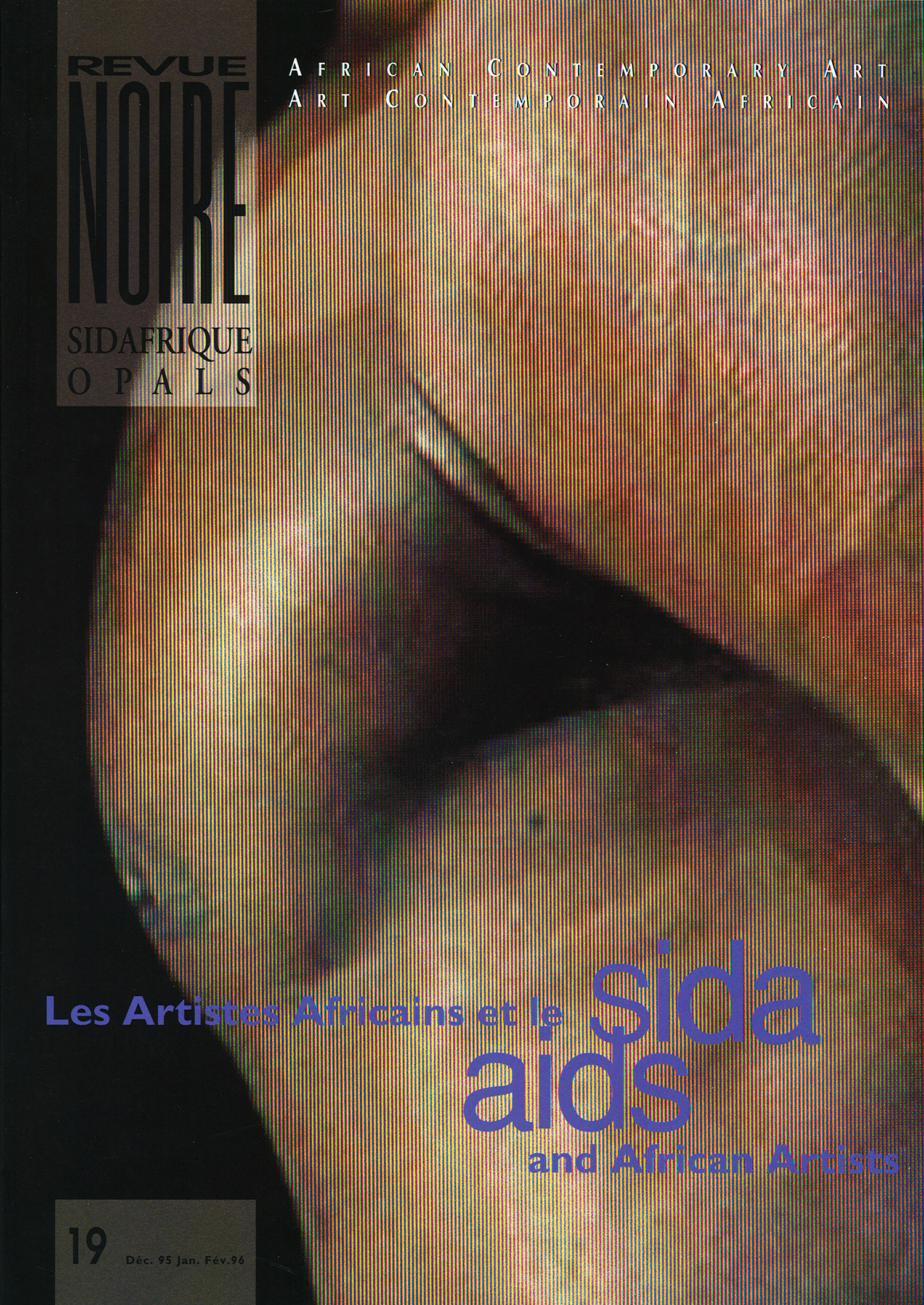 african artists and aids 
Art Portfolios : artworks against HIV
by Georges Adeagbo, Romuald Hazoumé, C'est l'Avenir Zinsou, Dakpogan, Gratien Zossou, Meschac Gaba, Tchif, Zinkpé, Cyprien Tokoudagba…
Photography
Literature, theatre
Dance
Cinema
Music
Talks with African HIV-positives, against the taboos
music CD "A CApPELLA"
Original songs included in CD in magazine by the best african voices
Papa Wemba, Lulendo, Lokua Kanza, Bonga, Ray Léma, Cheb Mami, Henri Dikongué, Aminata Fall…
Editors Jean Loup Pivin and Pascal Martin Saint Leon
Special 116 pages 33x23cm
Published in December 1995
In French and English
VIDEO / AIDS / REVUE NOIRE

Revue Noire has produced special videos for Arte and African TV :
- "ONLY ONE HOUR, against Aids", a 52' TV show presented by Isaak de Bankolé, with fictions by African filmmakers, African singers of the CD "A Cappella", talks with African HIV-seropositives "A Word, A Face", and African artists working to understand HIV troubles.
- "SAÏ SAÏ BI, inside Dakar's Tapats", 10' short fiction by  Bouna Medoune Seye (An HIV-positive drug addict living his last trip ...)
- "TEMEDY", 8' short fiction by Gahité Fofana (A young HIV-positive girl of Conakry seeks to continue to live day by day despite the virus corrodes her...)
- "DOLOROSA", dance-video by Dorris Haron Kasco, choregraphy Massadi Adiatou, N'Soleh company, on a text by Michèle Rakotoson (A mother follows her son to death ...)
- "A WORD, A FACE", 12' documentary by Gahité Fofana (African HIV-seropositives say us openly their difficulties to live day after day in Africa with the virus…)
- "ARTISTS WORDS", 26' documentary (African artists tell us about their experiences of creating about AIDS ...)
EDITO
From Rubber Songs To Open Wounds
Africa long hid away the faces of aids so that they could be transformed them into cradles of rubber propaganda and the international community turned into clouds of dubious and often random figures. The first faceless death should have sufficed to become the martyr of an Africa refusing to look itself in the mirror : the face of death could at this point have been renamed the bankruptcy of the concept of society. By taking such pains to be tactful with some mysterious sense of social decency, has Africa really become the continent where nothing is said or done, doomed by genetic fatalities ?

The time has come to envision new links based on the shifts in the notions of territory, color, and identity towards other notions resulting from the facts of city life – the city we all belong to. Societies of today (with their imaginary history) and even more so of tomorrow are forged from the distinct characteristics of individuals, alone before their futures. The body is isolated amidst a crowd of urges, desires and needs. The world over, individuals search for their kin yet only run into the solitude of societies unable to affirm new values liberated from sanguinary archaisms. Yet are these values really known ? (…)
The dichotomy of aids as a scientific illness and aids as a social illness seem to call for simple roles : doctors for taking care of patients, thinkers and creative artists for persuasion and expression. The theory behind this dichotomy would assign art the task of saying the unsayable, since art, by its representations of the world, creates meaning in areas where reason becomes impotent. Yet to box up art in reason makes both reason fail and art vanish. A human being who thinks is the same human being who loves. (…)

Others henceforth considered to be so many parts of oneself.

So we will not die completely.
by Jean Loup Pivin
contents of RN 19 :
ART / AIDS / Henry Koombes Kums, Pascale Marthine Tayou, Georges Adeagbo, Marie Wolf, Hentie Van Der Merwe, Hélène Coré, Ass M'Bengue, Mathilde Moro, Grobli Zirignon, Tamsir Dia, Kan-Si, Andrew Putter, Cheikh Niass, Aboulaye Konaté, Mohamed Kacimi
PHOTO / AIDS / Barbaras, Lien Botha, Gideon Mendel, Rotimi Fani Kayode
LITERATURE / AIDS / Frédéric Chango, Isabelle Boni Claverie, Ahmad Barakat, Amal Dunqul, Florent Couao Zotti, Antoine Kaburahe, Simon Njami, Ruben Mowszowski
DANCE / AIDS / N'Soleh, Adiatou Massidi
THEATRE / AIDS / Teatri
CINEMA / AIDS / Short fictions by Gahité Fofana, Bouna Medoune Seye, Dorris Haron Kasco
MUSIC / CD Revue Noire Aids 'A Cappella', with Papa Wemba, Monika Séka, Lulendo, Menwar, Lokua Kanza, Omar Pene, Mama Kouyaté, Bonga, Ray Léma, Cheb Mami, Henri Dikongué, Kaïssa Doumbé, Aminata Fall
TALKS / AIDS / African HIV-seropositives talk us openly, with Ofwono, Kouamé, Marilyn Martin, Abdoulaye M'Bengue, Bleoiue, Arsène Tao, Valy Ouattara, Carole, Tapé Bi, Esmel, Baguma, Chipanta, Dakar Declaration
AIDS / Prevention and treatments
Few pages from Magazine RN 19 :
.