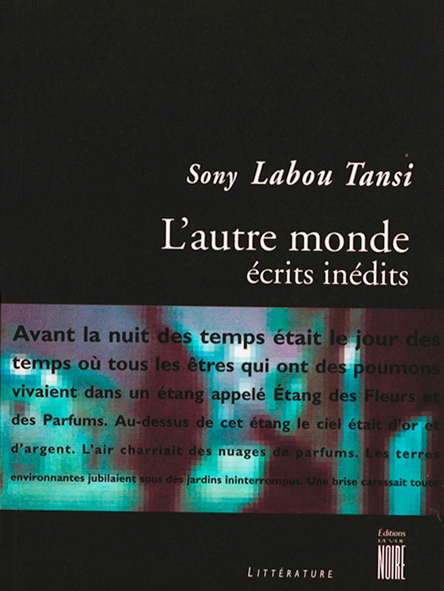 The Other World
Poesy, short stories, theatre, essays, and other unpublished  writings by Sonny Labou Tansi
Sony Labou Tansi is one of the masters of French speaking African literature (Congo Brazzaville), the most spirited and rebellious, who died in 1996. A number of texts still unpublished. Forewords by Nicolas Martin-Granel. 
Extract of a Sony Labou Tansi text :
"The words delight me
make me sign
and ask me to find them
works
any wage -
The words come in crowds
under my pen
as proletarians
Words claim
their rights to speech
and want to establish the dictatorship
of words on life -
They need someone who understands
which takes them
to his service -
Alas I'm not that one
Words crossed your hands
sit and fall asleep
at the feet of the poet
who alone knows the value
The words will die
if someone does stir time -
Words that speak of silence-
Bubbles of silence speak"  
(Sonny Labou Tansi extract)
Editors Nicolas Martin Granel and Bruno Tilliette
Unpublished writings by Sony Labou Tansi (Congo Brazzaville)
Paperback with some fac-similes
Published in 1997
In French only
ISBN 2 909571 289
Few pages from the book 'SLT The Other World' :
.