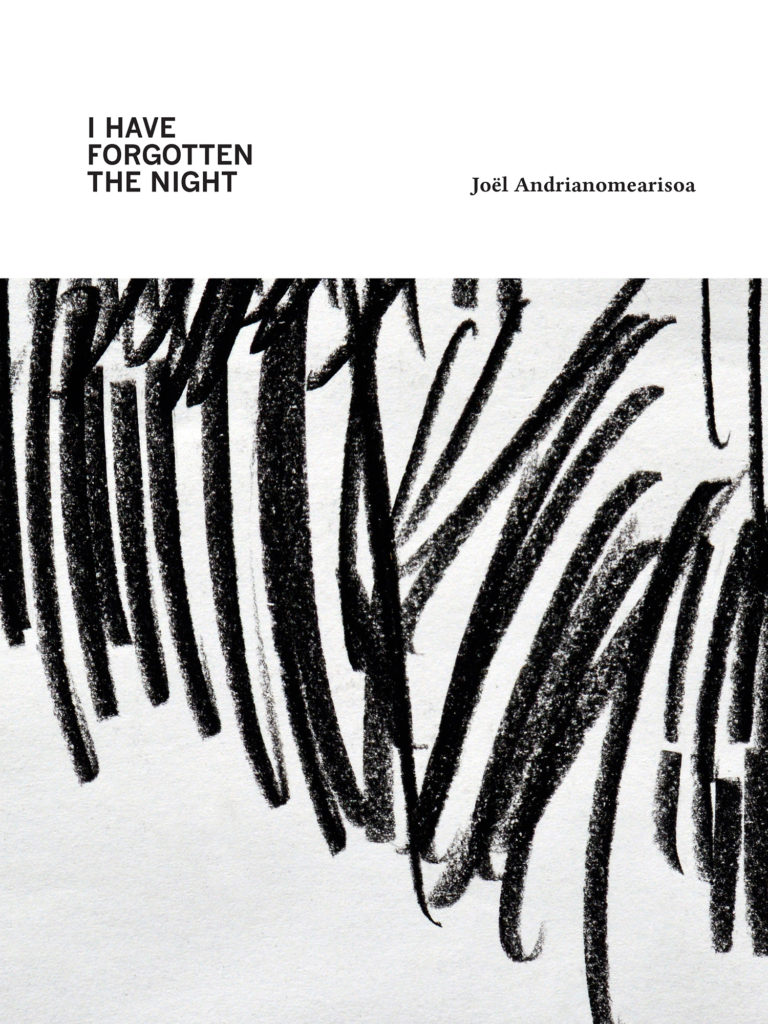 Venice Biennale 2019 - Madagascar Pavilion
livre catalog-monography by Joël Andrianomearisoa
"I Have Forgotten the Night" [see HERE the work] is the title of the art work of Joël Andrianomearisoa representing the 1st Madagascar pavilion at the 58th Venice Biennale 2019 and also the title of this book, both catalog of the Biennale and monograph of the artist. It includes more than twenty years of artistic practice from 1977 to 2019. In fact, much more than all this, it's an artist-book as an integral part of his work. As he does whenever the printed paper can be associated with the form presented.
The testimonies of the artists Pascale Marthine Tayou and: mentalKLINC punctuate the book, with the texts of the two curators of the Pavilion, Rina Ralay-Ranaivo and Emmanuel Daydé, as well as those of Annabelle Ténèze, director of the Frac Occitanie Toulouse Abattoirs Museum, Didier Montagné, philosopher and Simon Njami, writer, curator, founder of Revue Noire with Pascal Martin Saint Leon and Jean Loup Pivin who traces in this book the life of the artist until today.
The writers of Madagascar, Jean-Joseph Rabeorivelo, Elie Rajaonarison and Môssieur Njo sound the book of an intense and dramatic poetry in Malagasy language.
For 20 years, Joël Andrianomearisoa has participated in dozens of exhibitions, among others at the Pompidou Center, at the ARC of the Museum of Modern Art in Paris, at the New South Art Gallery in Sydney, at the Hamburger Banhof Museum in Berlin, at the Dakar Biennale... and in many places from Buenos Aires to Seoul, passing through Antananarivo and Cotonou. He received the 2016 Audemars Piguet-Arco Award.
An Artist-Book catalog-monography by Joël Andrianomearisoa
Hard cover with jacket color
in French and English (translation Simon Beaver)
published in May 2019
ISBN 978 2 909571 812 
diffusion distribution Art&Paper SAVECA
public price 64 €
Including 170 Joël's works.
with writings by :
Emmanuel Daydé, art historian, art critic and curator of the Madagascar Pavilion )
– We Have More Beautiful Nights Than Your Days
Rina Ranay-Ranaivo, visual artist, curator of the Madagascar Pavilion
– In His Sleepless Nights He Remembers
Annabelle Ténèze, Art historian, director of Frac Occitanie Toulouse and Abattoirs Musée
– Waiting for the Seventh Day that Will Bring Us Together in the First Hour of the Night
Didier Montagnié, philosopher, director of the Institut français Madagascar
– Icons of the Present
Jean Loup Pivin, architect, art critic and publisher-director of Revue Noire, producer of the pavilion
– He
– A live 1977 to 2019… The Timelessness of a Nostalgia, of a Love of its Countries, the Fragility of Time
Simon Njami, writer, art critic and curator
– The Tightrope Walker
:mentalKLINIK, collective of artists from Istambul
– Nous [We]
Pascale Martine Tayou, visual artist
Joël Andrianomearisoa, the author, visual artist
– A Song that Holds Back the Night
and writings by Madagascar writers Jean-Joseph Rabearivelo, Elie Rajaonarison and Môssieur Njo  
[Open HERE to see PDF extracts]
SEE just down
the Madagascar Pavilion by Joël Andrianomearisoa,
Venice Biennale 2019